Representative Website:
Known as one of the more "tasteful" in the community, Muki's Kitchen features photographs of female models trussed up in pans filled with vegetables, and stuffed with apples and carrots in every possible orifice. Vegan it ain't.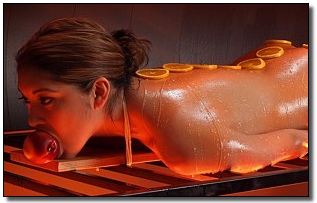 Typical Comment:
It's too bad these pictures are not *scratch and sniff*, because as beautiful and sexy as they are, they (would) smell even better! But that's just two of your senses: imagine the crackling sounds of honey and girl dripping into the open fire, or the feel of the heat coming off the fire pit (carrying the aromatic smells to you) while you sit back in a lawn chair and watch the roasting, and then think of the taste of the most succulent, moist and tender flesh you've ever had, with crisp skin holding in the juices and flavors, how it bursts in your mouth as you bite down, spraying your taste buds with flavor, feel it melting richly on your tongue the way a good steak should.
That comment pretty much paints the sad picture for us. Here's somebody who, when getting served a nice steak at a restaurant, almost certainly can't restrain their erection. And when their obvious arousal is noticed by their date/family/fellow diners, the best case scenario is convincing them that they merely have a T-bone fetish, to cover for the fact that they can't eat a piece of meat without imagining it's cut from a sexy, charbroiled human.
But Why?
When you think about it, the whole idea of girls as food should be a natural. It combines two of what men like most: boobs and barbecue. When we put together other combinations of things we love, they turn out great. Fire + a vague sense of patriotism brought on by alcohol = the Fourth of July. Cars + guns = a giant gun that shoots cars. Doughnuts + burgers = the doughnut burger.
But when you combine hot girls and our love affair with eating, well you've just put too much peanut butter in our chocolate.