The Goal
To have as many people walk through a pit of hot coals as possible, demonstrating the power of peer pressure in getting people to do stupid things.
What Went Wrong
Shockingly, of the three hundred and forty-one people who gathered to take part in the attempt, some of them didn't know what they were doing. Despite strict supervision and training, twenty-eight people ended up being treated for burns and eleven of them had to be taken to the hospital.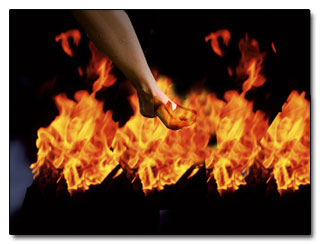 The attempt was designed to double as a fundraising effort for New Zealand's ambulance service and in that sense it was a success, raising one thousand dollars for the cause. That is, it was a success until well over that amount had to be spent treating all the injuries. At least a number of doctors were on hand to watch the event, so help came quickly. Something tells us the bedside manner of those doctors was a lot more sarcastic and bitter than usual.

"According to this X-ray, you're not retarded. Well, that can't be right."
Lesson Learned
If you're going to raise money for a health service, try doing something that doesn't inevitably involve horrible burn wounds.