Scientists didn't start seriously studying them until 2000 when Spain had a 10-day hailstorm with stones up to six and a half pounds ... without so much as a cloud in the freaking sky. They seem to be most common in the middle of winter. And the middle of the summer. Figure that out.
So what we're saying is it's pretty much like God is throwing darts at the Earth, except instead of darts, He uses chunks of ice that could kill an elephant.
Chances of it Happening to YOU:
These things happen in every part of the world with little rhyme or reason, except that whole thing about being more common in mid summer and mid winter, which obviously does nothing to help you. The sky could pretty much fall right on top of you at any moment, any time of the year.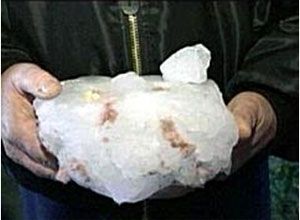 This one in the picture above fell in some dude's living room while he was watching The Exorcist. Seriously.
There's not even some kind of warning, like high winds or sudden temperature change, just a quick whooshing sound before impact. You'll have just enough time to look up before the giant hailstone wipes the surprised look off your face, or more accurately wipes your surprised face off of you.