According to research, 83 percent of males say they've experienced this, but only 58 percent of females have gotten the shivers--probably the whole "standing vs. sitting" thing.
What causes it?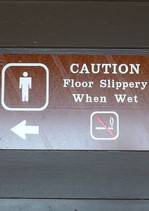 Inadequate government funding toward piss-related mysteries has lead to several "educated guesses" as to why the shaking occurs. Some have offered a highly technical and uninteresting explanation involving changes in the nervous system when the bladder is relaxed.
The simplest explanation, though, is that the rapid release of warm fluid lowers the body's overall temperature leaving it to react the same way you would in a cold breeze. Why you don't shake when vomiting or giving blood was not answered, because those particular researchers apparently decided they had thought about it long enough.