Science is like heroin: It'll give you some of the best and worst times of your life, and occasionally they will be the exact same thing (sure, that body high is amazing, but you'll have to live with the shame of that indecent exposure arrest at the Red Robin for the rest of your life). Here are five inventions that will most likely revolutionize the modern way of life, right before they flush it down the toilet.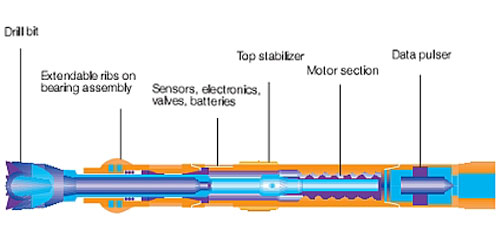 A man named Jared Potter has recently developed
a pair of flame drills
that operate at temperatures of 3200 and 7200 degrees, respectively. That's hot enough to pretty well burn through anything, but rather than mounting them on the front of a spike-treaded tank and driving it into the UN to deliver his list of demands, Potter has instead opted to turn the fury of his psycho-drills on the very planet itself. At such high temperatures, the drills are capable of boring through the Earth's crust without ever actually touching the rock itself, thus eliminating the need for replacement drill bits, equipment maintenance and rock cooties.
How This Will Change the World:
If we're able to cheaply and efficiently burrow deeper into the Earth's crust than ever before, we can tap past the earth's crust to the chewy center, where a sea of molten rock lies waiting to power the flying cars of the future. The chief downside to using all that glowing hot earth juice as an energy source has always been location: If you don't live in a Dr. Evil style volcano base, it just doesn't do you much good. But with these new flame drills, geothermal shafts can be dug anywhere, just like tapping a well. A spurting well of unceasing Hellfire, sure, but a well nonetheless. This could cleanly solve all the world's energy needs and, what's better, we could look fucking
hardcore
while doing it.
"Just harvesting some fuel."
How This Will End The World: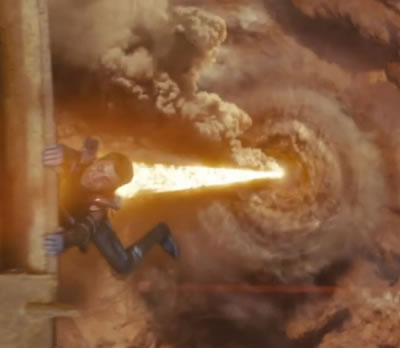 What part of superheated hydrogen drill boring into the Earth's core didn't set off an alarm with you? The whole idea reeks of barely veiled supervillainy, but even assuming that Potter has the best of intentions and is not, in fact, hiding a Cobra Commander mask in his back pocket, tapping a geothermal well where there is not already a natural vent brings a few risks along with it: volcanic eruptions, searing magma, earthquakes and crustal instability, to name a few. A volcano's only job is to provide an avenue for magma to exit through - but dramatic eruptions are only caused when that vent is blocked long enough to build up significant pressure. So if anything blocks, interrupts or otherwise interferes with the vent, then you have all the criteria for a volcano. Where's the nearest power plant to your house? Two miles? Five? Now, where's the nearest volcano? Yeah, well, pretty soon you're only going to need to know the one answer.
A lot of thought is being poured into new methods of space travel, and what scientists across the globe are discovering is that
Star Trek
is awesome, so fuck it:
We're just going to do that.
The term "warp travel" generally refers to a sort of jury-rigged workaround for the physical speed limit set by Einstein's Theory of Relativity, wherein one would propel space itself around a ship rather than power the ship through space. It's basically just exploiting a technical loophole in the universe, allowing us to travel at warp speeds by virtue of being total dicks to physics.
Take that, Physics, take it all!
How This Will Change The World:
The great thing is that interstellar travel could very well be a possibility, as the fundamentals of a warp drive are being nailed down by some of the brightest minds in the world right now. Truly feasible interstellar travel could well traverse that last great step for humanity: The creation of a global society. There are countless divides between people that allow us to morally separate ourselves from one another. But interstellar travel could not only bring about the usual benefits science fiction promises us, (namely some of that sweet green alien strange) but also the end of all internal Earth conflict. If there are suddenly a billion other accessible galaxies teeming with life, the "us vs. them" mentality gets scaled up accordingly. Now instead of mere interspecies fighting, it's Earth vs. Everybody Else (hey, let's not fool ourselves here: We're always going to bomb the shit out of somebody; interstellar travel just means you're less likely to be related to them).
How This Will End The World:
The bad news is that it could cause a black hole every time you put key to ignition. A group of scientists in Italy say that the chief design principle of a working warp drive would also be
its fatal flaw
: A warp engine would work by creating a massive "bubble" of distorting energy behind the ship, but the energy output is
so
enormous that if it were to run out--like say, when you slow down, park or just run out of gas--the bubble would inevitably collapse on itself, thereby generating massive, sun-like temperatures before folding and creating a black hole. But hey, you've still got that engine! You can run away from it at
warp speed
! ...Unlike the solar system you're launching from.
"Boy, space sure was fun. Whelp, time to go."
So sure, you may be able to travel to new galaxies and meet fascinating alien civilizations, but you'll be burning those bridges right behind you--along with the rest of their entire planet. We guess as long as you don't give a shit about the sanctity of alien life, and never plan on returning home, you can burn your way through the universe with your jerk-drive all you want. Jerk.