12 Celebrities Who Let Their Freak Flags Fly On Bizarre Overseas Projects
It's a big world with a whole lot more people than the American population alone. This is something that the managers and agents of America's biggest celebrities know all too well. You can hear that phone call now. "Hey, Snoop Dogg. It's me, your agent. There's this German prepaid mobile company that needs you to pop out of a fridge singing in German. You in?" Spoiler alert: Snoop was in. And it's just an all-around strange ad. Can you blame him though? He's not just for American eyes and ears. Germans love Snoop, and probably topped up those mobile minutes because of him.
We all got a chuckle out of Joey Tribbiani's Japanese commercial "Ichiban: Lipstick For Men." But his quote, "Now remember, I got paid a lot of money for this, and it only aired in Japan," says it all. If an actor gets flown out to far off lands for a big pay day, who cares if it's an odd, embarrassing piece of footage? No one in America is going to see it, right? Well, come to think of it, Joey's comment was uttered in a pre-YouTube world. Luckily for us, we now get to see these 12 celebrities in their very odd overseas projects.
OK, Tommy Lee Jones, how do you feel about laser eyes?
Snoop is not showing off that hair or that German singing in Compton.
Her agents (and father) had her doing absolutely everything in 1999.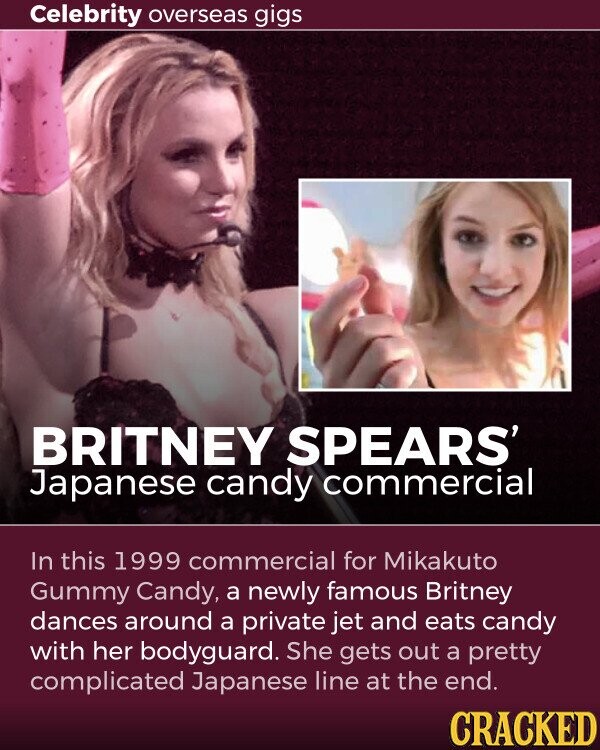 Check it out for his random line about Roseanne Barr being President.
It's no Japanese men's lipstick ad, but this feels like a strange choice.
Do all action stars think an Asian period piece is a slam dunk?
Hey, it was overseas for him!
Hostels can't be gross if this Diva stays in them, right?
If his energy in this ad comes from that drink, it definitely works!