33 Pop Music Facts Now Spinning In Our Brains
Is there anything more annoying than getting a little bit of a song stuck in your head? It's usually not the whole thing in it's entirety, just a couple of bars or lyrics, the chorus, or the bridge. Sometimes it's not even a song that you LIKE, just an irresistible earworm that you find yourself humming in the shower or in your car… And you're just stuck with it living inside of your brain until it decides to pass. (Anyone who says "Oh, just listen to the song!" is an idiot, that doesn't help anything.)
Still, as annoying as it can be, isn't there something magical about pop music's ability to do this? Is there another art form or pop culture that has the ability to just claim squatter's rights in your gray matter?
Below are a bunch of facts about some of our favorite pop songs… Sorry in advance if find yourself stuck with them afterwards.
Jethro Tull and Fish Farming
Girl, You'll Be a Woman Soon
Nicki Minaj
Taylor Swift's Christmas Tree Farm
It's Raining Men
Poker Face
Fountains of Wayne: Origins
Dead Flowers
You're Beautiful
Who Are You?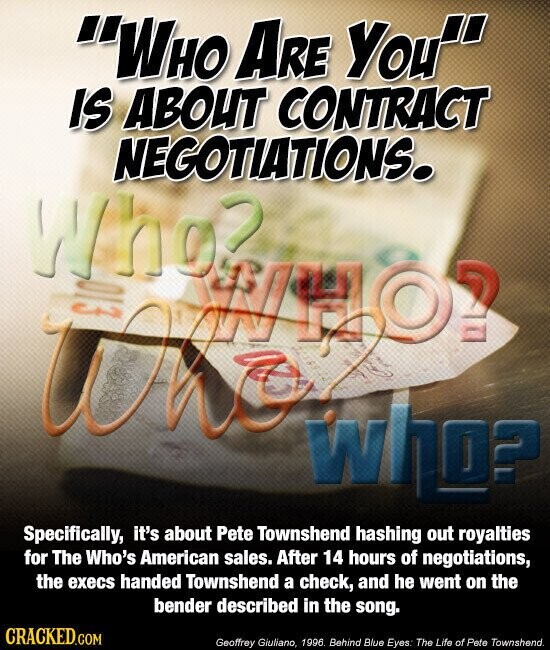 Twisted Transistor
Firework
Thinking Out Loud
Britney Spears vs Somali Pirates
Busta Rhymes & Eminem
Wannabe
First Aid Kit
Happiness is a Warm Gun
Heavy Metal to Watchmaking
The Real Summer of 69
Paul McCartney & Jesus
J. Cole: Violinist
Drake's High School Diploma
Mozart Outsold... Everyone
The Goo Goo Dolls
Isn't This Where We Came In?
Blinded by the Light
The One I Love
Never Learn Not to Love
Umbrella
Single Ladies
Landslide
New Order / Joy Divison