25 News Stories In Brief That Really Fueled Our Fires
Is this the end of this year's Alaskan snow crab season? It looks like it, as estimates show that roughly one billion crabs have disappeared, leading officials to investigate and cancel the season. This is a staggering ninety percent drop in their population in just two years. In other news, a pastor has been placed on administrative leave after giving out "I <3 Hot Youth Pastors" stickers. Cory Wall, 35-year-old man of God (allegedly), handed them out at his church with a note admitting he was poking fun at what he called the "I Love Hot Mom" culture. Which sounds 10000% credible. Finally, OnlyFans lawyers accidentally revealed which Meta execs allegedly took bribes to act in certain users' interests, by filing a court document that failed to redact names connected to the alleged global conspiracy inside Meta. Anyway, the allegation that this failure to redact was accidental sounds just as credible as the pastor's one.
Influencer begging for donations after saying she 'accidentally' bought a $100,000 couch
Witchcraft Event Canceled Last Minute In Newburgh Following Subject Matter Concerns
Vegan who failed to deal with mouse infestation and fed them instead is fined by court
McDonald's customer fined after visiting restaurant twice in 14 hours
Passenger banned from ferry tried to sneak on with wig and high-pitched accent
Man dubbed 'Edward Scissorhands' cuts trees during middle of night in Fort Worth neighborhood
Bayonetta's original voice actress was only offered $4000 by Nintendo.
Iron Man Star Terrence Howard Claimed Robert Downey Jr Owes Him $100M,
China censors word "Beijing" after rare protest in city
Juror in Gretchen Whitmer kidnap case dismissed for flirting with defendant
A YouTuber is trying to claim an expensive Team Fortress 2 weapon as a tax deduction
Herschel Walker defines a woman as a "Rib"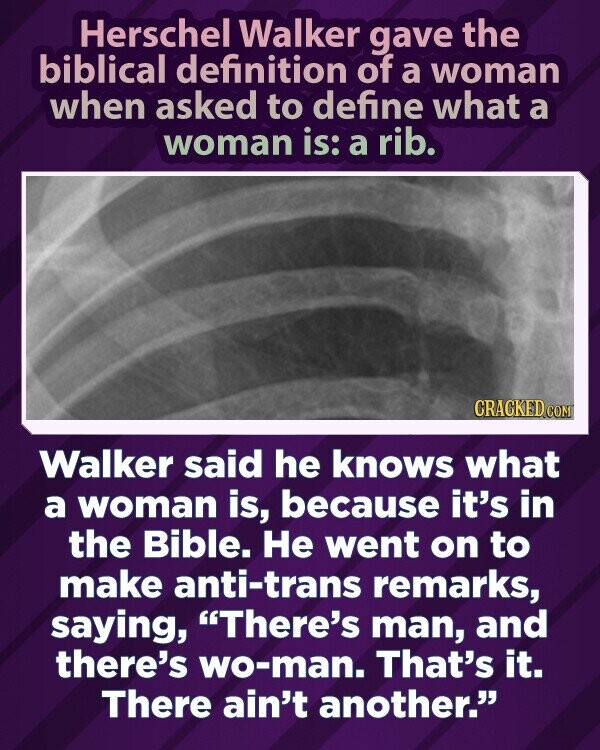 OnlyFans lawyers accidentally reveal which Meta execs allegedly took bribes