20 of the Greatest Improvised Weapons in Pop Culture
Anyone can shoot a gun, swing a sword, or rock a mace into a person's skull. Sure, if you want to be good with a weapon, you'll need to actually train but there are several instances where an amateur has used a weapon to kill someone. Hell, that's the purpose of a weapon: to physically disable or kill. However, while weapons cannot become everything, everything can become a weapon.
With the right amount of skill, stubbornness, necessity, or all three put together, any object can become a deadly weapon for someone. In fact, several movies put random objects in the hands of protagonists to use as a makeshift weapon against their opposing forces. Many of these objects are the most mundane thing in your home. Some of them, however, require a little bit of creativity and ingenuity.
Here are some of the best improvised weapons on display on television, film, games, and comic books.
A Pencil
An Umbrella
A Frying Pan
A Sex Toy
A Hammer
A Lamp
A Nazi Coin
A Peanut
An Oak Branch
Flash Paper
Fish
Cutlery
A Cricket Bat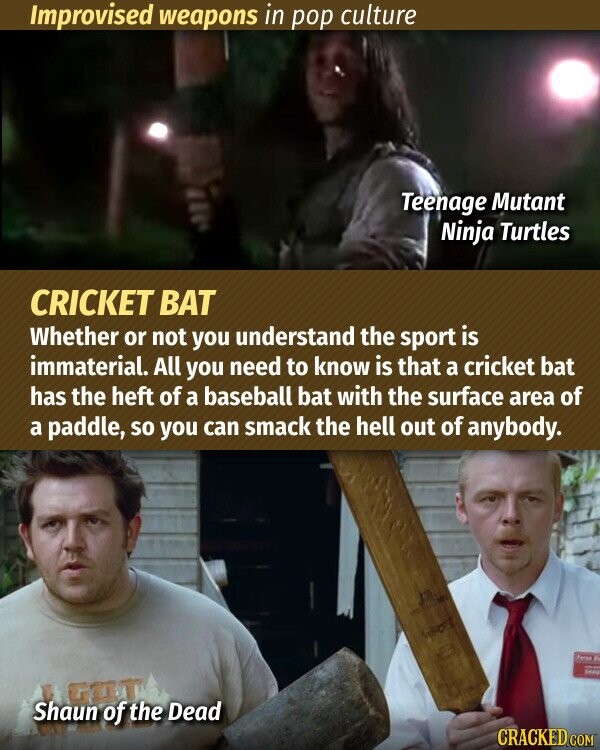 A Chicken Bone
Anything Near Jackie Chan
A Chainsaw Attached to Your Wrist Stump
A Car Turned a Pair of Boxing Gloves
A Book
A Bathroom
A Large Man
Scroll down for the next article