20 Now-You-Know Facts That Really Frothed Our Milk
Did you know that Russia owned Alaska for as long time as the United States? In 1867, Russia decided to sell it to the U.S. so they could focus on other matters. However, before this happened, Alaska was governed by Russia as a colony – not a territory or a state! If you've ever seen 'Terminator 2', then you're probably familiar with the scenes of the T-1000, played by Robert Patrick, transforming. What you might not know is that the sound of him transforming was actually created using a condom on a microphone! To get started, they put flour and water into a bowl and added Dust-Off spray until it made bubbles and sounded similar to cappuccino maker machine. Lastly, did ancient Rome fall in 476 AD? Although popular belief suggests this date marks Ancient Rome's end, historians would tell you otherwise – it actually fell in 1453 AD, when the city of Constantinople fell.
McDonald's ran an ill-timed Olympic promotion.
Vanessa O'Brien has been higher and lower than any of us.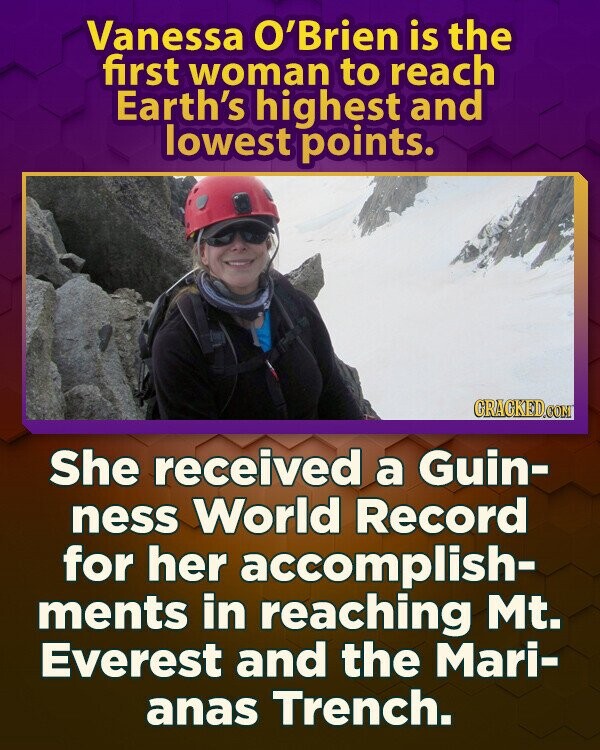 Sleepy penguins get poked with sticks, for science.
Marilyn Monroe was a lady in the streets, and a college boy in the sheets.
Corn does a body good, if prepared a certain way.
Tiny chairs are carved out of soap by an inmate and displayed in popsicle-stick cases.
Billy Joel graduated high school at age 43.
A football stadium for the Vikings cost over 1 billion dollars.
Pizza Hut China regrets offering a salad bar.
The unstable chemical substance chlorine-trifluoride can set concrete on fire.
'Peanut gallery' comes from Vaudeville.
A Roman goldsmith was killed after discovering aluminum, as to not make gold and silver less valuable.
Submarine cloaking is so good that two of them collided by chance.
A faulty pool heater caused a tennis pro to die in his sleep.
Sarcasm promotes creative thinking, NOT!
There could have been a Michael Jackson "Edward Scissorhands."
Canadian scientists brought a horse pox virus back to life, just to make a point.
Ancient Rome was a 2,200 year long civilization.
A condom covered mic made the T-1000 come to life.
Russia owned Alaska as long as the US has.