20 Performers Who Used to Be Jokes And Now Are Respected: Then vs. Now
Younger readers (or Cracked Kidz, as we definitely call them) won't remember this, but the MCU used to be interesting. Also, your favorite artist was not as highly respected as they are right now. They used to be joke fodder, everyone would laugh at their cringy attempts at relevance and awful works, and even late night talk show hosts would just use them as the butt of their jokes. But then Game-Changing Event happened, and the game was changed. Suddenly they got in our good graces, forced us to redirect our public shaming to the real enemies (billionaires and crypto grifters), and the rest is hist— alright, you get it.
Such is the sort of artistic stories we're discussing in this Pictofact. We've dealt with the much more familiar topic of fallen celebrities, and someday we will discuss celebrities that became exactly what their critics always said they were *note to self: add link to Jordan Peterson overtly acting like the fascist that normal people always said he was and then don't forget to delete this note to self*. For now, however, we're interested in artists that used to be mocked for being lame or ridiculous, and that are now super respected. In most cases, as we will see, the situation particularly concerns beautiful people: heartthrobs and heartthrobettes that would get no respect because they were pretty, but who then proved to have immense talent. You know, talent, the opposite of being a hack. Yeah, you get it. Enjoy!
Heath Ledger
Robert Downey Jr.
Adam Sandler
Kristen Stewart
Robert Pattinson
Charlize Theron
Justin Timberlake
Pamela Anderson
Matthew McConaughey
Marilyn Monroe
Natasha Lyonne
Leonardo DiCaprio
Jonah Hill
Jane Fonda
Zac Efron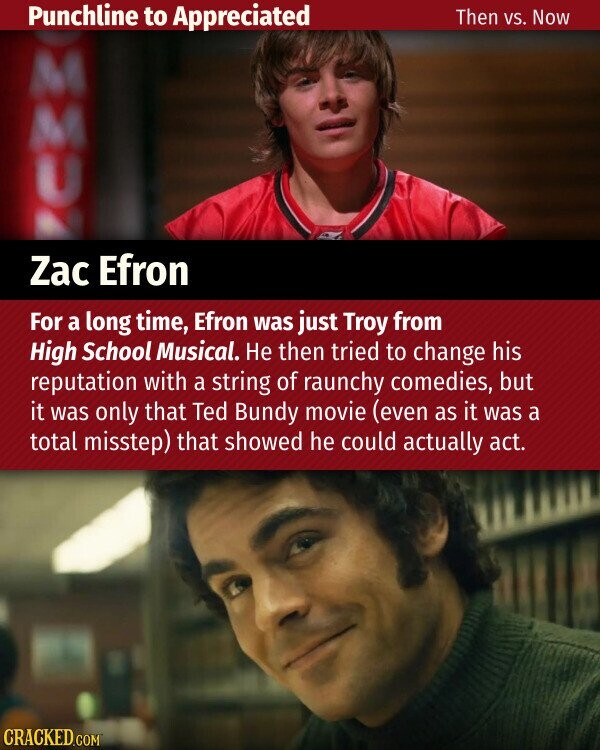 Miley Cyrus
Tom Cruise
Jim Carrey
Britney Spears
Justin Bieber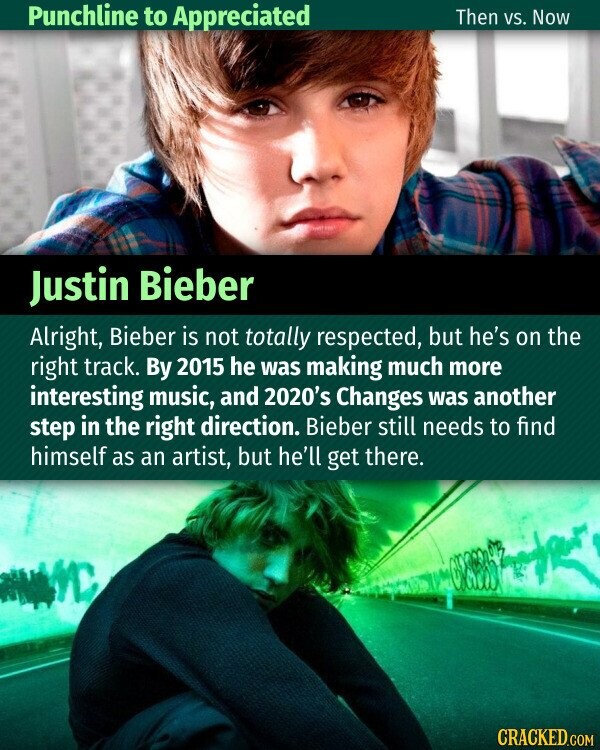 Scroll down for the next article