29 Examples of Theme and Symbolism in MCU Phase 4
The Marvel Cinematic Universe gets a lot of flack-- That's bound to happen when one company franchise seems to dominate the blockbuster box office season. We've heard it all before: the movies feel like they're off an assembly line, mostly made up of CGI characters throwing CGI do-dads at one another, and replacing genuine thrills with cameos from… some guys who were also in a different movie that one time.
But is that really all that's going on in the Marvel universe? Or is there secretly some substance and unifying themes buried under all of that glossy, evenly lit popcorn spectacle? We'd argue there is!
Phase Four of the MCU has two main themes that permeates each of the feature films and television series: Doubles and legacy. Following the events of 2019's "Avengers: Endgame" it makes sense that the various characters would left wondering what's next, and what they'll leave behind. Also multiverses. So many multiverses.
Doctor Strange 2's Whole Deal
Ms. Marvel gains powers
All the Spider-Men
"Marvel" Is a Popular Name
Wandavision Ends With Two Visions
Too Many Lokis
A New Avengers Team?
Hawkeye's Got a Pal
Echo
NEW BLADE???
Loki's Future
Rebelling against your parents
Carrying on Cap's Legacy
Ant-Man & Ant-Man & Wasp & Wasp
Is Doctor Strange starting a school?
Loki learns from other Lokis
A New Thor Enters The Chat!
Spider-Man learns about previous Spider-Men
Kang the Conqueror
Loki's parallel universe
Alternate Universe Heroes
Moon Knight is mostly doubles!
She-Hulk takes over a couple jobs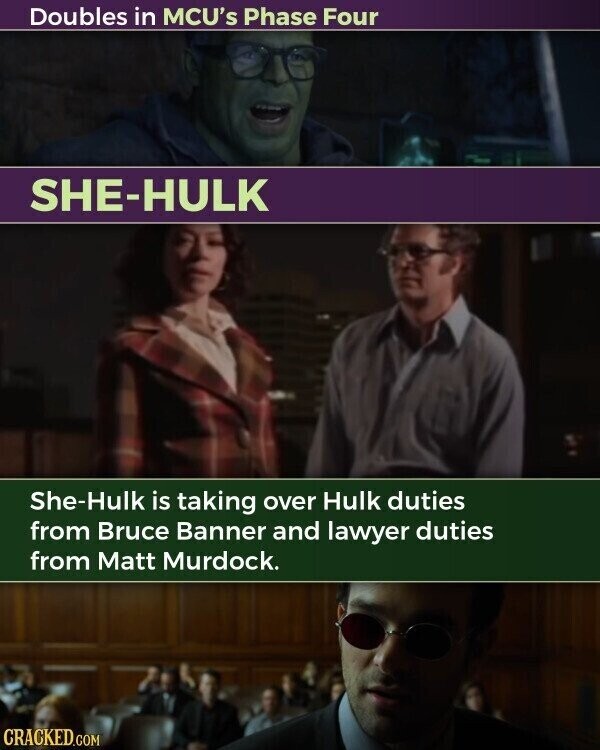 Wanda's Children
Everyone Iron Man Left Behind
Is Peter still dealing with his Dad?
Moon Knight's Russian Doll
Shang-Chi & His Sister
Hawkeye's Legacy