15 Facts About The Michelin Man, Tolkien, And The Price Is Right
I am a very serious man who has devoted my life to learning and understanding. My work has always been dedicated to the pursuit of truth and knowledge; it has taken me across the globe on countless adventures and I have seen things that many people can only read about in books.
In fact, one could even say that this journal is the sum of my knowledge—a single volume to record everything I've learned during my travels through time and space. And yet, despite what one might expect from my words, there is no such thing as absolute truth or knowledge. In the end, we must each come to our own conclusions, for no man knows anything with complete certainty. The universe contains too many mysteries and secrets, far too much strangeness, not to mention a great many things that remain completely incomprehensible to the human mind.
Now here are fifteen fun facts:
"Primal Rage" is rated 'Teen' for a reason.
Was Steve Jobs just the biggest a-hole in the world?
Tires were white when the Michelin Man was created.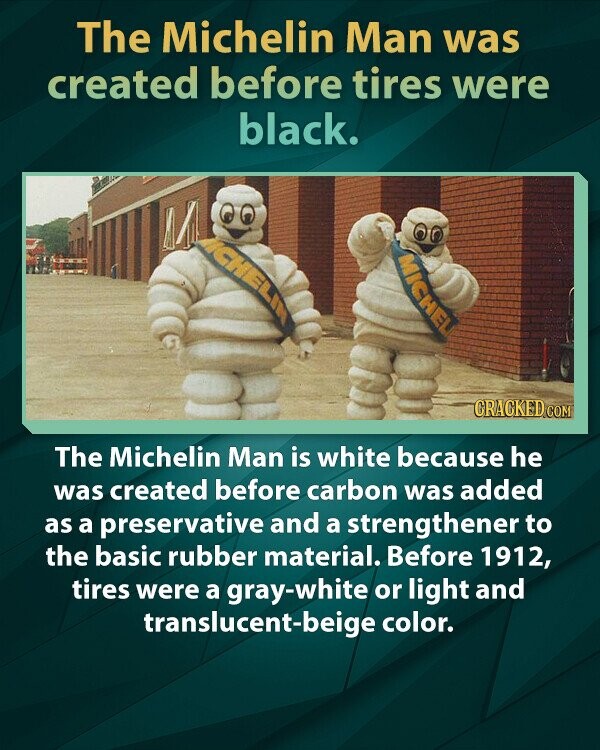 Ghost ships from North Korea keep ending up in Japan.
Microsoft saved Apple in 997.
The Plinko game was still rigged to always land on the highest amount during a shoot.
Tolkien stole some guy's girl and wifed her up.
There's still time to make Villain Land.
It's a feature, not a bug.
Pesto has its own scanner at Genoa airport.
Disney made Mickey Mouse gas masks.
Campbell's Soup put marbles in the bowl for advertisements.
A group of Weight Watchers broke the floor when they got together.
Fossil words aren't used anymore except in idioms.
Arizona has a "Stupid Motorist Law."