15 Facts To Collect Like Infinity Stones
How many knuckles do you have? You're gonna wish you had at least 5 more, because we've got several handfuls of facts comin' your way.
Oreo is lying right to our faces, rap battles have been around longer than you probably think, NASA owns a building so large, rain clouds naturally form on the inside of it, and doctors have clocked some oddly convincing evidence in regards to the whole life-flashing-before-your-eyes thing. You're also about to learn about the unexpected location of lobsters' pee nozzles, the surprising respiratory side effect of giraffe's huge necks, the horse-centric Olympic winter sport that didn't last very long, and absolutely dismal conditions of the first Olympic basketball game. Then of course there's the surprising funeral proposed by the son of a Titanic victim, why Japan is giving away space dirt, the bizarre, hyper-local consequences of the outcome of the Super Bowl, and the incredible teamwork displayed by magpies.
Wield this power responsibly, dear reader.
You're getting less Oreos for the same price.
Rap battles have a longer history than you think.
Gone With The Wind is the highest grossing movie of all time.
It rains inside the NASA Vehicle Assembly Building.
The first PG-13 movie ever was Red Dawn.
Lobsters pee below their eyes.
Giraffes have the highest blood pressure thanks to their height.
"Ski driving" used to be an Olympic sport.
They wanted to explode the corpses out of the Titanic.
The first basketball game at the Olympics didn't have it's own court.
Car accidents rise after the Superbowl.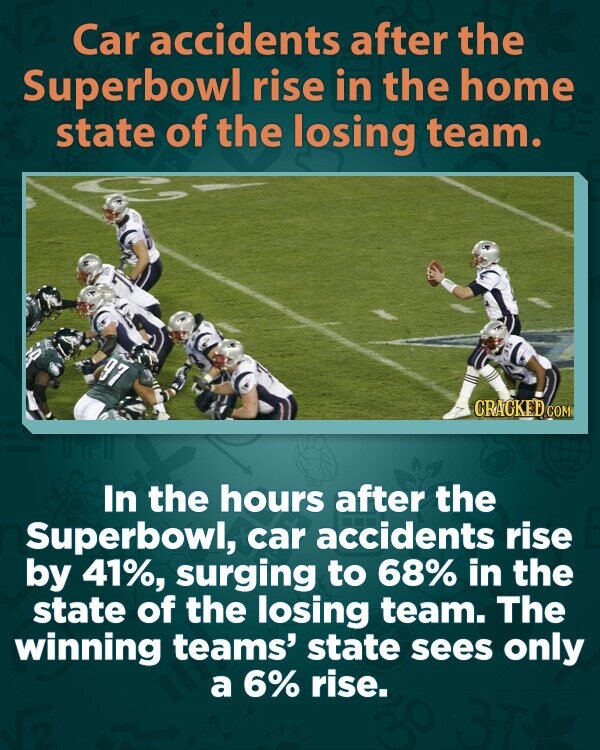 Magpies show altruistic behavior.
Life really does flash before our eyes.
There is asteroid debris up for grabs.
There is a day for ditching your New Years resolutions.
Scroll down for the next article