Tell Us Now: The 16 Clumsiest Attempts At Movie Censorship
We asked Cracked fans on YouTube about the silliest ways TV shows and movies have been censored for their delicate eyes and ears, and they had some monkey-fighting thoughts on the Monday-through-Friday subject.
Consider the examples= of Jason Goes To H: The Final Friday (the Friday the 13th sequel), which was undoubtedly and categorically quite violent. The 'Unrated' VHS version of the film is somehow even bloodier than the original! In one particularly memorable and utterly ridiculous scene,someone was graphically sliced in half inside a camp. In a good way, of course.
Regrettably, there is far less censorship than in the crazy nineties because once, horror films would've been snipped by the censor's scissors merely for presenting an erupting head. Mostly in the early 1980s, some blockbuster movies even had bloody gunshot wounds snipped.
Of course, it goes without saying that we all despise censorship. Who needs to be told by an outside authority how many exploding heads they may or may not watch? C'mon. We're all irresponsible adults here.
So, what do I never forget about film censorship? The clumsiest attempts.
Check out some of the best examples below, and watch our account of the time Iran hid Will Ferrell's crotch with CGI.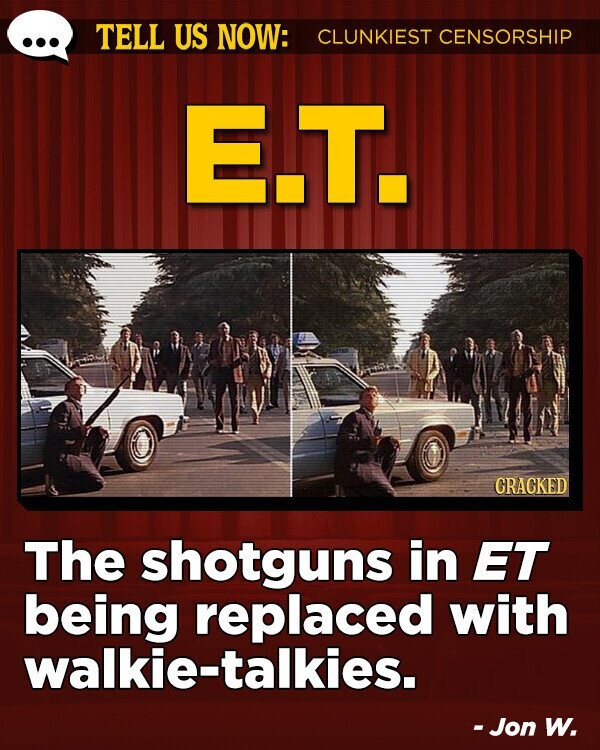 Scroll down for the next article