Why I'm Better Than The Mars Lander
DID YOU HEAR?! The Mars lander may have found ice on Mars! That's right; in the cold reaches of space, millions of miles away, water freezes. Hooray. Now, there aren't a lot of things I'm inherently good at: blogging, parasailing (never been, but I'm pretty sure)…actually, that's about it. But even so, I'm proud to announce that I am inherently superior to the Mars lander in every conceivable way. Looks: I may not get attractive women knocking down my door, but I'd sure as hell beat this thing in the swimwear portion of a male modeling competition. I mean it's only got one big, stick-like metal arm, whereas my two arms are pleasantly meaty and human-sized. If you dispute my claims, just ask the nearest woman if she'd rather have sex with Michael Swaim, or a pointy metal table. I think you'll find that nearly 68 percent of the time, I've got the Mars lander beat hands down.
Technologically: NASA would have us believe that the Phoenix lander is a wonder of modern science just because it can be sent somewhere, then do stuff they told it to and call them about it. Well I hate to rain on your parade, scientists, but last night we were out of dog food, so I went to the grocery store, and then when I got there I forgot what kind I was supposed to get, so I called my fiancée at home to find out. And I did it all for less than 420 million dollars. Sure, Mars may be a little farther away, but the principle is the same. Give me a cell phone with a camera in it and send me on my way.
Having a weird floppy tube hanging off me: There was some concern that the Mars lander was malfunctioning when people saw images of it and noticed a weird, loose tube flapping limply off the side of it. Oddly, this is the same concern I faced in similar circumstances the night of Junior Prom. But, unlike the Phoenix lander, whose "passive wind indicator" is nothing more than a dangling tube used to measure windspeed on Mars, my "active pleasure indicator" can measure windspeed, provide hours of entertainment, and, given the right environment, PRODUCE A FULLY-FORMED HUMAN BEING.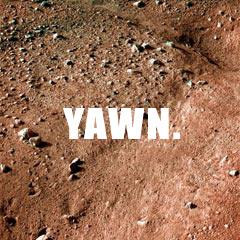 Existing in Space: I'm doing it right now. You want to see me outside of an atmosphere? Fine, make it happen. I would no less exist there than I do here. Functionally Existing in Space: All right smart guy, you got me. Yes, I would instantly explode and freeze to death and burn or whatever. But let me ask you something. What costs more, a 420 million dollar space probe, or the cost of providing me with a motorcycle helmet and a few bottles of Oxygen pills? I rest my case. I am superior to the Mars probe, and far more affordable. NASA, you have my information (I was the guy you told to stop calling after I kept asking whether you'd found my Frisbee. And by the way, if you do find it, please let me know—it's orange. It's not even really mine is the thing.).
---
When not blogging for Cracked, Michael haughtily compares himself to objects in his house as head writer and co-founder of Those Aren't Muskets!