There are a few critics out there with at least a little bit of fight left in them. Brian Orndorf of Blu-ray.com managed: "A soulless endeavor and a painful viewing experience. Your kids deserve better." These are the brave soldiers of The Emoji Movie; those who made it out the other end, mostly intact and able to write a full review instead of just an elongated sigh.
I think part of the reason this one was so tough for critics was that the collective groan the world let out when The Emoji Movie was announced turned around at some point to a hopeful feeling. No one was especially hyped for The Lego Movie at first, and it turned out to be great. The casting decisions sounded good. If Patrick Stewart and T.J. Miller signed on to it, it must at least be OK, right? Seeing the actual movie was like a having a cold bucket of water dumped over their birthday cake in lieu of blowing out the candles. Now they can't unsee what they have seen, and they are mentally scarred. Wherever you are today, pour one out for your local movie critics. If you see one in the street, tell them you appreciate them. Maybe give them a hug if they'll let you. But as you gaze into their broken, hollow eyes, feel not pity but fear. If you see this movie, a similar fate may await.
7/26/2017: John Wick Is Getting A Spinoff! Sort Of! Maybe!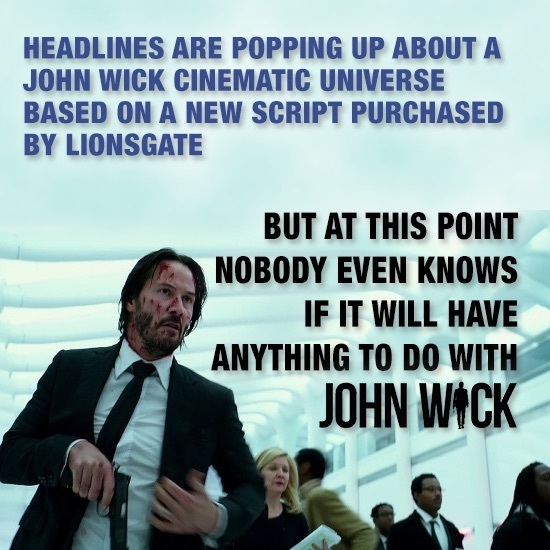 In 2014, we encountered John Wick, a movie in which Keanu Reeves shoots at bad guys. And in the event that he can't shoot at a bad guy, he breaks that bad guy's body parts. He does this with intense gusto, and audiences around my apartment and the world applauded him. Keanu Reeves had spent years dwelling in the pit of "Well, he's been in a few good movies, but ..." But now we could lift him out of there, throw him onto our shoulders, and parade him around town. All hail Keanu. He will lead us to the promised land.