Here Are 10 Ways To Step Up Your Audio Game
This piece was written by the people who run the Cracked Store to tell you about products that are being sold there.
You don't have to be an eardrum to know that built-in laptop speakers and cheap earbuds aren't worth much more than the packaging they came in. If your headphones were purchased on an airplane and the bass sounds like a tin can full of bees, it might be time to start shopping for some audio equipment. To squeeze the best possible listening experience out of your music collection without getting swindled into paying for solid platinum connectors, check out this list of budget-friendly audio accessories.
Bluetooth Shower Speaker
Listening to music while creating a Santa Claus bubble beard is a great way to jump-start your morning, but replacing all those waterlogged smartphones can get a bit pricy. Luckily, this Bluetooth shower speaker can kick out the jams without needing to be dunked in a bag of rice every night. Shower Karaoke coach not included. Pick up this stick-on waterproof speaker for $19.99.
FRESHeBUDS Pro Magnetic Bluetooth Earbuds
Preventing headphone wire knots is a physics problem on par with colonizing Mars. Well, maybe not that bad, but tangled cords happen to everyone, and it's annoying as hell. These Bluetooth earbuds keep the knots to a minimum with magnetic clasps, and provide up to 6 hours of continuous playback. Tangle-free is the way to be. Pick up these FRESHeBUDS for $29.95.
G-BOOM Wireless Bluetooth Boombox
Back in the day, boomboxes were comically huge. Lugging one around caused some serious strain on the shoulders, severely hampering your wicked windmill in important break dance battles. However, they did do one thing very well: blast music extremely loud outdoors. This Bluetooth boombox aims to rekindle some of that willful animosity. With seven hours of playback time and rugged construction, you can headspin all day long without any of the added muscle cramps. Pick up this G-BOOM Wireless Bluetooth Boombox for $84.99.
A-Audio Legacy Noise Cancelling Headphones with 3-Stage Technology
It can be difficult to fully relish the sultry rhythms of John Legend when your parents keep yelling at you to quit your DJ career and get a real job. But when you have anti-vibration active noise-cancelling technology and switchable bass enhancement with these A-Audio Legacy Noise Cancelling Headphones, all of their yipping and yapping suddenly fades away into white noise. Eat it, parents! Get them here for $79.99.
"The Cube" Bluetooth Speaker
This space-age-looking Bluetooth speaker, aptly dubbed "the Cube," pairs easily with your smartphone or other Bluetooth-compatible devices to deliver booming bass and zinging trebles. The LED lights look awesome, and give you the feeling that at any moment, Borg could start shooting out of it like a geyser. Get "The Cube" Bluetooth speaker for just $25.99.
HERO True Wireless Bluetooth 4.2 Sport Earbuds
Whether you have an Schwarzeneggerian exercise regiment or just have a glandular problem, these sweat-proof wireless earbuds will keep the music pumping through all of the perspiration. Their low-profile design will stay out of your way whether you are heaving kettle bells or re-molding the body grooves in your couch cushions. Just remember to towel off afterwards. Get these HERO True Wireless Bluetooth 4.2 Sport Earbuds here for $94.99.
HomeSpot Rugged Waterproof Bluetooth Speaker
Taking in the overwhelming sublimity of nature is a profoundly moving experience. But after a few moments of exalted reverie, all that silence can get pretty damn boring. This outdoorsy Bluetooth speaker is dust- and water-resistant, so you can put a soundtrack to your campground game of "Throw Handfuls Of Dirt At Chad" without the worry of destroying your speakers in the crossfire. Pick up this HomeSpot Rugged Waterproof Bluetooth Speaker for $29.99.
Acesori A.Buds Bluetooth Aluminum Earbuds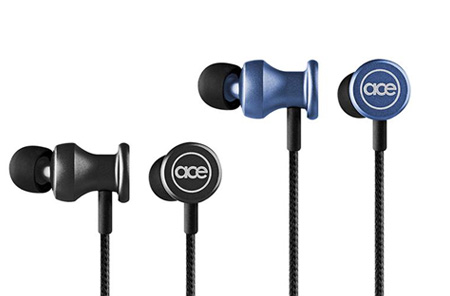 Your yoga routine might keep your Chakras aligned, but nothing dampens a quest for enlightenment like a dangling ear bud while you're downward dog. These understated wireless headphones will stay rooted in place even after getting slick with sweat, and the five hours of battery life and tangle-proof magnets will ensure the only timer on your workout is your own physical breaking point. Grab them here for $24.99.
Kove Commuter Wireless Speaker
Unless you live in an abandoned warehouse, this tallboy-sized Bluetooth speaker has more than enough bass to replace your home stereo system. And even if you do abide by the creed of squatter's rights, you're in luck, because it's completely wire-free, meaning you can grab it easily when the cops chase you out of there. Grab this Kove Commuter Wireless Speaker for $89.99.
Earhoox 2.0 for Apple EarPods & AirPods: 2-Pack
The factory-issued Apple earbuds fit decently, assuming you were the ear model they were originally designed for. But considering how they fit the rest of society you'd think we were all Mickey Mouse. These silicone ear hooks will keep them in place and save you from giving up and trying to cram the actual phone into your ear. Pick up a two-pack of these biological adapters for $14.99.
Scroll down for the next article