Computers Won't Take Your Jobs, They're Creating New Ones
Thanks to the internet, we've all got an embarrassment of riches in terms of stuff to panic about. Between ISIS, North Korea, our orange-faced president, and the grim nightmare specter of Hillary Clinton's emails, everyone has something to worry over. And one of the most common panic buttons on rotation across the headlines is that ROBOTS ARE GONNA TAKE ALL OF OUR JOBS! JESUS TITBALLS, PANIC!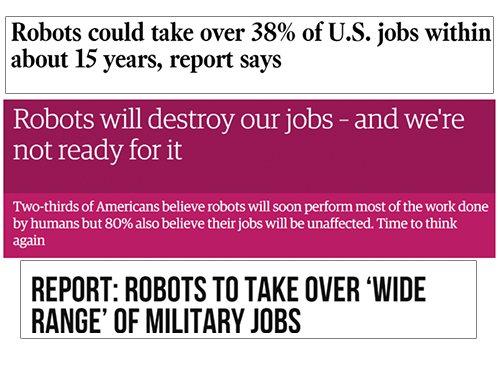 But is the situation really this dire? I took a deep dive into the evidence and sat down with some experts to try to figure that out. Here's what I learned ...
Historically, Computers Create More Jobs Than They Kill
When you spend a lot of time reading articles on the upcoming automation jobpocalypse, you'll see one statistic cited above all others:
And that absolutely seems worth panicking about. Unemployment crept above 20 percent during the worst part of the Great Depression. 47 percent unemployment would spell the end of our civilization. If these headlines are correct, we're 20 years away from unimaginable change. But those headlines -- and the study contained in them -- don't tell the whole story.
First off, those researchers are only claiming that 47 percent of all current jobs will be automatable within 20 years. But that automation doesn't happen in a vacuum. For example, the authors of that study make a point about how computer algorithms are increasingly doing the work of lawyers and patent attorneys:
But rather than leading to a vast unemployment crisis for paralegals, the field is expected to grow by 8 percent through 2024. Computers are capable of doing a lot of the work paralegals used to do, which means their employers are able to offer more services, for less, to more customers than ever before. For the foreseeable future, paralegals will get to keep paralegalin'.
"What happens when you automate something? You make it cheaper, you make it better-quality, and that drives up consumer demand." That's Professor Jim Bessen, a lecturer at Boston University who studies the "economics of innovation." He authored a comprehensive study on how automation impacts jobs. He argues that computers tend to increase employment in most fields, and I am almost 75 percent certain he's not an agent of Skynet. Professor Bessen doesn't think much of the 47 percent study: "It's just complete bullshit. They identified jobs like accountant and bank loan officer. There's just too many things that humans do."
I reached out to the authors of that study for commentary, and they never got back to me. (Possibly because Professor Bessen terminated them to aid the rise of the machines, possibly because they thought Cracked was a much more hardcore version of High Times.) But Professor Bessen was able to make some compelling points about how automation's impacted employment over the last hundred-ish years. He pointed out that the impact of machines on the tailoring field wasn't exactly what you'd expect:
"Typically at the end of the 19th century, the average person would have just one set of clothing," but as machines made clothing cheaper to make, "the amount of cloth that was consumed per capita went up 10 times, so that offset the amount of labor required per yard of cloth." It turns out that "for the first 100 years of textile automation, automation was accompanied by growing employment."
You see that in a lot of fields. When ATMs were first introduced, people thought they'd put thousands of bank tellers out of jobs. Here's what actually happened to the employment rate of bank tellers:
It turns out that an entire job field being wiped out by machines is actually a pretty rare occurrence: "I looked at the number of occupations in 1950 and how many disappeared, and of the ones that disappeared, how many could be put down to automation. And it turns out there's only one. The one occupation that can be attributed to largely disappearing because of automation? Elevator operator."
"But Cracked, you machine-fondling hobgoblins," you may ask, "what about self-driving cars? What about all those manufacturing jobs that don't exist anymore? My uncle lost his job to a machine you robo-sympathetic race traitors!" First off, Jesus, chill the hell out. Second ...
Scroll down for the next article