All The Dumb Sh!t Trump Has Done As Nominee In One Mega-List
Most presidential campaigns fall apart under the weight of a single gaffe or shocking revelation. Donald Trump has proven to be the T-1000 of presidential bids. He furiously marched forward in spite of bullet wounds and a missing leg. His campaign is like if the Titanic was sinking, then got struck by a meteor, and then there were vampires, and it still didn't fully submerge until it was a mile away from Liverpool.

The Trump campaign right now.
I collected every insane story to make headlines since he accepted the Republican nomination. I will now present them all to you. I've grouped them into eight categories, each representing a different way the Trump campaign shat all over itself. I don't have the confidence to claim that this is a definitive list. There were so many stories of ineptitude and repugnance that it was often difficult to keep pace. I did the best I could. Trump, on the other hand, did not.
So grab yourself a stiff drink and hunker down in your comfiest chair, because if you plan on reading about every single instance in which the Trump campaign proved itself to be the most spectacular disaster in American political history, you're going to be here a while. Good luck, try to enjoy, and please vote.
His Feuds With Random People
Donald Trump has never met a person he didn't want to publicly shame. Google the words "Donald Trump feuds" and you'll get hundreds of articles detailing spats with random people like world-renowned architect Frank Gehry and comedian Jerry Seinfeld, who, in the fallout of his feud with Trump, said, "If God gave comedians the power to invent people, the first person we would invent is Donald Trump."
Public feuds are part of who Trump is as a person. He can't help himself. We saw this in one of the most truly baffling moments of any presidential campaign. During an interview, Trump told Khizr and Ghazala Khan, the parents of a U.S. solider killed in Iraq, that they could fuck off after they spoke out against Trump's proposal to ban the entry of all Muslims into the country. And he did it in the most Trump way possible. To Khizr's claim that Trump has "sacrificed nothing and no one," Trump responded, "I think I've made a lot of sacrifices. I work very, very hard. I've created thousands and thousands of jobs, tens of thousands of jobs, built great structures. I've had tremendous success. I think I've done a lot." He barely has any time to hop into his Jacuzzi, and that's like learning your son died, right?

Trump sacrificed most of his butlers on an altar and bathed in their peasant blood.
The man hasn't come across a criticism that he can't spin into glowing self-praise of his business "prowess." Rather than lay low and wait for the whole thing to blow over, Trump spent the next few weeks fanning the flames by taking his shit-talking to Twitter, which is probably what Nixon would have done had the power been available to him.
One of Trump's most famous feuds is with Rosie O'Donnell. It began in 2006, and he still hasn't stopped talking about it. Slight him even once, and he'll hold on to that anger until you have to call in an exorcist to cleanse your home of his vengeful ghost years after he's died. Over the years, Trump has publicly fat-shamed O'Donnell, has repeatedly called her ugly, and has openly celebrated her failures, and all because O'Donnell came to the defense of a teenage beauty pageant winner Trump publicly shamed. During the first debate, when Hillary Clinton brought up the name of a different pageant winner Trump had also publicly shamed, Trump couldn't help but briefly mention his feud with O'Donnell, which is like a senior citizen plotting the downfall of someone who once made fun of his haircut in junior high.
Alicia Machado won Trump's Miss Universe competition in 1996. Trump thought she had gained weight in the months after her victory, so he publicly called her "Miss Piggy." And she's Latina, so fuck it, might as well throw in some racism by calling her "Miss Housekeeping" too. According to Machado, Trump would yell at her about her weight and call her ugly. In 1997, Trump hired a personal trainer for Machado and invited news crews to film her exercising to prove that she was dedicated to losing weight. Machado never consented to having her workouts filmed. Turns out getting consent from women is a big problem for Trump.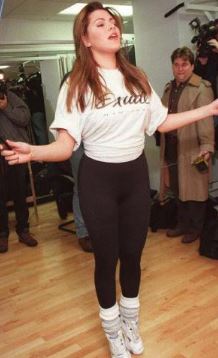 Look at this disgusting pig-human. She makes me want to vomit all over my jorts.
Days after Hillary Clinton brought up Machado, Trump went on a crazed 3 a.m. Twitter blitz, intent on discrediting her and telling the world to check out Machado's sex tape. During the second debate, he denied having said that, even though the tweet is still on his feed. At this point it's not even clear if he is a pathological liar or has an undiagnosed memory problem.
Scroll down for the next article