A 60-Second Guide To Donald Trump's Potential Vice President
Donald Trump is expected to announce his vice presidential pick on Friday. Earlier this week, he and his family interviewed the most likely candidates over the phone. In case you plan on throwing down some money over this decision, here's a brief synopsis to help you pull one over on your bookie.
Newt Gingrich
Claim To Fame:
In 1994, Gingrich announced the "Contract with America" ahead of that year's midterm elections. The contract was basically a promise that, if Americans elected Republicans to Congress, they'd vote on 10 bills within the first 104 days of the session. Each of the bills focused around fairly vague things the GOP thought two-thirds of Americans agreed with ("balance the budget," "cut taxes," "stop crime").
The Contract with America succeeded in winning the Republicans control of the House of Representatives for the first time in 40 years, which is still one of the single most important Republican victories in modern history. Gingrich was made speaker of the House for his leadership.
His Last Job:
None of that actually worked out, the Republicans lost badly in the 1998 midterm elections, and Gingrich stepped down because no one liked him anymore.
What Trump Has To Gain From Him:
Just look at this face.
Because that roguish smile and bedeviling eyes are all Newt Gingrich has to offer. When he last ran for president in 2012, The Washington Post noted that he might be the least popular politician in America. Between 16 and 25 percent of Americans had a positive opinion of the man, making him less popular than either Hillary Clinton or Donald Trump -- neither of whom most Americans would feel guilty about hitting with their car.
Most Shameful Moment In Politics:
That'd probably be when he admitted that he spearheaded a shutdown of the federal government partly because President Clinton was rude to him on Air Force One. A political cartoonist memorialized it thusly:
That cover was blown up into an eight-foot-high poster and displayed in Congress by Gingrich's angry opponents, in what was easily one of the most interesting events of the 1990s that didn't involve O.J. Simpson, Iraq, or Bill Clinton's wang.
Why He Might Be A Good Idea:
Newt actually seems to agree with the basic ideas behind the Black Lives Matter movement, and has said as much. Considering Trump's minority bonafides basically boil down to "Doesn't currently support putting Muslims in internment camps," Gingrich would actually count as as a progressive choice.
Mike Pence
Claim To Fame:
Mike Pence is the governor of Indiana. He's almost run for president several times, and he has fantastic hair.
His Last Job:
Pence is still the governor of Indiana. But, uh, probably not for that much longer. His approval rating currently hovers around 40 percent, and he's got to decide whether or not to run for reelection by Friday.
What Trump Has To Gain From Him:
You'd think at least the state of Indiana, but Trump is already projected to win that state, and most people in Indiana apparently hate Pence. He's a dyed-in-the-wool religious conservative, with a fine record of saying unfortunate things about gay people ("Homosexuality is incompatible with military service because the presence of homosexuals in the ranks weakens unit cohesion.") So Trump might conceivably want his support to buck up the right-wing religious demographic, even though they're already planning to vote for Donald Trump over a woman they view as the Antichrist.
Most Shameful Moment In Politics:
Either the fact that becoming Trump's running mate is literally the only path forward for him politically, because he's damn near certain to lose his reelection campaign, or the time he visited an open-air market in Baghdad with John McCain to show that the Bush administration's plans to make Iraq safer were totally working. He described the market as "like a normal open-air market in Indiana in the summertime." Then The New York Times talked to the merchants he'd met, who pointed out that dozens of Humvees, squads of snipers, and copious body armor were the only things that made Pence's visit remotely safe.
Why He Might Be A Good Idea:
He does have great hair. And maybe more Indianans will vote for Trump if it means getting Pence out of their state.
Chris Christie
Claim To Fame:
Chris Christie is a Republican who became governor of New Jersey, an achievement on par with discovering Atlantis or successfully fist-fighting a grizzly bear. He methodically destroyed Marco Rubio in one of the most beautiful moments in political debate history, and also uttered the words "Those are the hugs I remember" during a different debate.
It's ... been a weird year.
His Last Job:
Christie is currently the governor of New Jersey. But he's probably not long for that role, since 64 percent of his state's citizens view him unfavorably. Hillary Clinton currently has an 88 percent shot of winning New Jersey. It's hard to imagine how one of the state's least popular governors of all time could help with that.
What Trump Has To Gain From Him:
Trump has stated before that he wants to turn traditional Democratic strongholds like New York into swing states. He'll announce his vice presidential pick in New York City, where Trump's campaign has its headquarters. Donald really wants to win New York. Chris Christie is a Republican who won an election close to New York.
Christie was also the first "establishment" Republican to back Trump in a big way. I was actually there the day he announced his support for Trump in Dallas. The song that led him up to the stage was "You Can't Always Get What You Want."
Most Shameful Moment In Politics:
Hoo boy, that's a tough list to narrow down. There's the time he allegedly had a bridge closed to fuck with a political rival, of course. And back in August, he pointed out that Trump's Mexican wall idea made "no sense," then went on television to defend it five months later.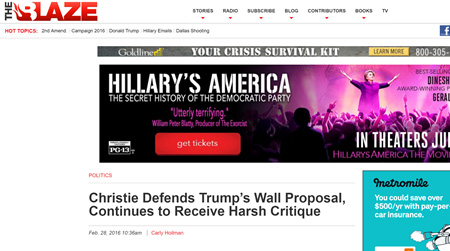 But the most painful would have to be the recent rumors that Trump has started using him as a "manservant" to deliver fast food.
Why He Might Be A Good Idea:
If Trump needs to bury a corpse at some point this election, volunteering to do the deed wouldn't be Christie's most embarrassing moment this year. And he's the governor of New Jersey, so you know he's got good corpse-burying connections.
General Mike Flynn
Claim To Fame:
General Flynn helped author a report called "Fixing Intel," which basically slammed our current intelligence efforts in Afghanistan as shitty, ineffective, and based on a poor understanding of the area. Also, his face looks like it was whittled out of a solid bough of oak.
His Last Job:
Head of the Defense Intelligence Agency, an organization that does exactly what you'd expect it to do, based on the name. He was allegedly forced out a year ahead of schedule for being "disruptive," although the fact that Edward Snowden went all Edward Snowden on his watch probably didn't help move his career forward.
Most Shameful Moment In Politics:
Flynn is a soldier who's spent most of his life serving the U.S. with incredible distinction. He doesn't have much of a political career, but he did make the news recently for switching from pro-choice to pro-life over a 24-hour period.
Why He Might Be A Good Idea:
He's a general, which is always sexy to have at your back in an election. And he's a lifelong Democrat who supports Donald Trump because he doesn't feel President Obama has adequately confronted "radical Islam." He's very close to being the perfect running mate for Trump. Which is of course why he's not one of the three "finalists" Trump and his family met with yesterday to interview for the job.
Trump's made it this far without doing the logical thing, dammit. Why would he start now?
Robert Evans has a book, A Brief History of Vice, and you can order it now!
Scroll down for the next article