8 WTF New Movies No One Is Talking About (February 2017)
It's 2017! Time for another year of out-of-touch Oscar ceremonies, polarizing DC films, and your annual ration of one Star War of moderate to high value. And as we did continuously throughout 2016, it's also time to dive into the choppy waters of indie cinema in search of bizarre treasure. Our plunder? Some of the coolest, most fun-est, and grotesque upcoming movies that no one bothered to tell you about. No one except me of course. You're welcome!
Raw: A Cannibal Film So Brutal It Caused Audiences To Pass Out
Release Date: March 10, 2017
Cannibalism is to horror what "dead baby" jokes are to comedy; created for easy shock value ... and rendered completely useless from oversaturation. But like rote infanticide, stories of supping man-flesh will occasionally hit the right triggers the way 10,000 misogynist monkeys could type the next Bret Easton Ellis novel. What I'm saying is that the movie Raw looks to be a fucking ride. More specifically, it looks to be a ride to the goddamn floor -- as evidenced by the three audience members who passed out while watching it.
"Brilliant marketing!" you decry through sneered, skeptical lips having lost all ability to feel or empathize with the world. To that, you fucking psycho, I say watch the trailer for yourself. For even these red-banded 90 seconds are enough to chill you so hard your mother's ovaries will need a sweater. And speaking of having a vagina ...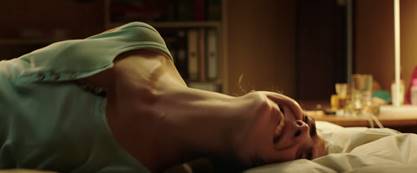 This lady will soon wish she didn't have one.

I'm not sure why this one lady is taking a pair of scissors to another lady's privates -- and frankly I'm not sure I want to find out. Same goes for the film's apparent abundances of zombie-like famine, some gnarly-ass skin rash, and a fucking horse on a treadmill.

AKA: A typical Tuesday in the Cracked offices.

The trailer explains none of these things to us. What we do know is that the film is about a vegetarian college freshman who undergoes a bloody hazing ritual forcing her to eat raw liver ...

Almost as gross as cooked liver.

... igniting a dormant lust for the pulpy flesh of the uncooked ...
... which inevitably leads down a path of sexual depravity, addiction, and savagery resulting in a barrage of heinous and bloody acts. In other words -- pretty much your basic first-year college experience.

Typical freshman can't handle a little raw flesh.
Where Is Anne Frank: A Time Traveling Stop-Motion Film About The Holocaust
Release Date: N/A
Director Ari Folman is not a man you want to measure dicks with. Born to Auschwitz survivors, his adolescence was spent as a teenage soldier during the Sabra and Shatila massacre in Lebanon -- an experience he later turned into the animated documentary Waltz With Bashir. After an Oscar nomination, he went onto make The Congress -- a film about Claire Underwood going all Cool World for disease money.
So if there were anyone who could get away with making an animated Anne Frank movie, it sure sounds like it would be this guy. Especially when you see what it looks like ...


Her diary kind of breezed over this part.

Yes, that appears to be the aftermath of a worm battlefield. And while I can't give you the full context of that batdick image -- it appears that this is less a straightforward biopic as something that would blow your stoned mind at 3 a.m. on Cartoon Network. According to the synopsis, the film follows Kitty (the imaginary friend to which Anne dedicated her diary) as she wakes up in modern day Amsterdam in search of her missing friend. As it dawns upon her that decades have passed, we watch as this whimsical character takes the full brunt of learning just what the hell happened to her human pal.

Yes, that's the plot. Told in both animation and steampunk stop motion.

Two words which are always welcome together.

But before you guffaw in outrage over such a Burton-esque retelling, keep in mind that this fever dream is actually the first film supported by the Anne Frank Fonds Basel -- giving Ari full access to the family archives in order to complete the film. That means you can learn about Anne Frank's life AND synch it with Pink Floyd's The Wall at the same time, totally guilt free.
How To Talk To Girls At Parties: Punk Rock Nicole Kidman Fights Aliens
Release Date: Late 2017
The studio A24 has been vomiting gold for quite some time. Along with funding Oscar contenders like Room and Moonlight, the company is behind some of the best and most brain-fucking horror/sci-fi like Under The Skin, Ex Machina, and the gore-punk scream fantasia that is Green Room (a film I totally warned you about).
One year later and this studio is bringing us yet another harrowing tale of mohawked shenanigans being hampered by sudden violence and a surprise celebrity appearance.

And its not Grammy-nominated singer/songwriter SIA.

Yes that's absolutely the BMX Bandits star Nicole Kidman as "Queen Boadicea" -- the host of a 1970s punk rock party that goes toes-up when a group of boys discover an uninvited extraterrestrial presence in the form of "foreign" exchange students. To protect the scene, Kidman ends up leading the charge like a Siouxsie Sioux Lt. Ripley as our adolescent heroes follow suit. We don't know much more than that besides the few production photos taken nearly three years ago.

While the extended production points to all kinds of problematic possibilities (especially when the shoot itself was only 30 days), the fact that this is all based on a Neil Gaiman short story is super-promising. As is director John Cameron Mitchell -- best known for the Hedwig And The Angry Inch movie.

In a time of world leaders that couldn't look more like V For Vendetta villains, frankly it's nice to see liberty-spiked hooligans go hog wild on just about anything with a pulse.
Annihilation: The Director Of Ex Machina Takes On Alternate Realities
Release Date: Late 2017
If you're like me -- you experienced a profound existential crisis from Ex Machina. Specifically, the Oscar Isaac dance number turtling your masculinity in the blinding face of Apollo-like rhythmic dominance. Oh, his beard! His beard like the thorny maw of the great serpent -- devourer of lust!

Poe DAYYYUM-eron.

Anyhoo ... if you enjoyed that film, there's a very real chance you also enjoyed such gloomy sci-fi as Sunshine, Never Let Me Go, 28 Days Later, and Dredd. Why? Because director Alex Garland wrote all of those films -- as well as the original novel for The Beach. He is the person to thank for every niche sci-fi hit and then some, and now he's back with Annihilation -- an adapted film about lady biologists bushwhacking otherworldly lands defiant of physics.

Without spoiling it for myself or others, the original novel follows a team of unnamed scientists crossing over into a mysterious and possibly alien "Area X" after the last expedition returned with zero memory and a cancer diagnosis. There they find an ever-changing ecosystem packed with enough grotesque wildlife to overcrowd hell's menagerie -- including a human-eyed dolphin species and Predator-like invisible animals. That's all I'm willing to learn about this film beyond the fact that it stars Natalie Portman, Jennifer Jason Leigh, and the aforementioned fuck-lord Oscar Isaac. And thanks to the cast and crew's Instagram accounts, we're getting a real-time tour of what this Area X is going to look like ...

So like Earth only more alien-y.

While the book is part of a trilogy, the adaptation was actually written before the last two books existed and the director has aimed to make it a singular, stand-alone film. That doesn't discount the idea of a series, but it's kind of welcoming to see a filmmaker focus on telling a single complete story which, when you think about it, is a super depressing thing to find refreshing.
The Circle: Tom Hanks And Patton Oswalt Play Sinister Steve Jobses
Release Date: April 28, 2017
For a film starring Patton Oswalt, John Boyega, Bill Paxton, Emma Watson, and Tom "I'm fucking Tom Hanks" Hanks, The Circle has been getting very little attention and I have no idea why. Along with featuring a shit-ton of relevant actors (including the historical reunion of Hanks and Paxton in their first film together since Apollo 13), the film couldn't be more overtly topical if it starred an anthropomorphic "Make America Great Again" hat. The story follows a young lady getting hired at the largest and bestest tech company known as "The Circle" for it's large ... uh ... circular campus.

Subtle.

Oh wait, sorry. That's an artist's rendering of Apple's new campus that's totally unrelated to this film. Here's the fictional "Circle" featured in the movie's trailer:

See, totally different.

Once hired, she meets the company's casually dressed, keynote-speaking bosses played by Tom Hanks and Patton Oswalt who in no way represent Steve Wozniak and Steve Jobs.

"Hello, I'm Steve Jozniak, and this is Steve Wobs."

I'm not entirely sure why -- but seeing Tom Hanks and Patton Oswalt sit sinisterly in the same room together feels contrary to everything I base my reality on. It's an image I don't think humans were ever meant to witness, like the center of the sun or someone mowing a lawn at night. From there, her life goes from new-hire, to hotshot employee, to tech celebrity, to "oh my god I'm being chased by a drone."

This is why you ALWAYS read the terms & conditions for hitting "agree."

If you can't tell -- the film promises to be a commentary on the ever-growing surveillance and power that tech companies exert on their customers. And while the subject might prove fruitless in a world where your XBox knows which hand you masturbate with, the film seems well worth the ticket price if only to watch Forrest Gump villain it up with Ratatouille.
Sleight: A Street Magician Turns Into A Real Superhero
Release Date: April 7, 2017
Every red-blooded movie buff has fantasized about sneaking into J.J. Abrams' office and stealing his glasses. And until recently, doing so would have inevitably forced you to commando crawl past a man named J.D. Dillard -- former receptionist for Bad Robot. While spending his days as a desk jockey, Dillard spent his free time pitching big-budget sci-fi concepts ... only to finally say "eff this noise, I'll just make something myself."
The result is Sleight, a low-budget mystery box filmed in just 17 days and written in even fewer. And while that sounds super shoddy, the film isn't doing half bad on Rotten Tomatoes.

"If you liked that ... just imagine what I could do if I actually tried."

As outlined in the trailer -- the film is about South L.A. boy genius/street magician who is forced into a life of crime in order to make a better life for his little sister. But when she gets kidnapped by an evil drug dealer, it's up to him to use a combination of sweet magic skills and odd body modifications to get her back.

The working title was "The Adventures of Robocop Magician"

By all accounts it appears to be a combination of Iron Man, Chronicle, and a dash of Menace II Society with what sure as shit looks like genuine magic. And with any luck it'll will end with Wolverine fighting Unbreakable's David Dunn over who gets the new kid for their gritty franchise.
Enjoy it now, folks -- because in five years he'll probably be directing a gritty Fantastic Four sequel.
XX: An All-Female-Directed Horror Anthology Of Insanity
Release Date: February 17, 2017
Anyone who has grown up with an older sister knows the visceral horrors that women are capable of. While female directors are scarce in every genre -- to me the biggest shame is that there aren't more making horror. Personally, this isn't so much about equality (although that's nice too) as it's simply that some of the best and most brutal horror films have been helmed by women -- such as American Psycho, Ravenous, Pet Semetary, and The Babadook.
This is part of why XX looks to be such a killer anthology -- as the main draw is that all four vignettes are being directed by a super-talented lady.
There's Jovanka Vuckovic, Annie Clark, The Invitation's Karyn Kusama, and finally Roxanne Benjamin -- who isn't shy to horror anthologies since she's worked on both the V/H/S films and directed a segment in Southbound. Together they form a terror Voltron you can only see glimpses of in the trailer -- which follows such tales as a little boy who wastes away from hunger after looking inside a mysterious box ...

So we at least know the box didn't contain food.

... a trailer park couple dealing with some kind of deranged possession ...

As most young couples do.

... a suspiciously upbeat birthday party ...

Featuring a child who appears to be dressed as a gigantic dong.

... and whatever the goddamn hell this kid is doing ...

Bad touch.

And since I'm writing this from the past (whoa, you guys), the movie is actually available right damn now. Go on iTunes or Amazon and rent that shit, you fucking time-wizard.

And speaking of the terrifying ladies ...
The Love Witch: Feminism Disguised As '70s Camp
Blu-ray release: April 1st, 2017
Alright. Technically, The Love Witch isn't an "upcoming film". Technically it came out to a limited amount of theaters in 2016. In fact, you can absolutely rent the movie right now on Vimeo. But there was no damn way I could omit this kooky throwback masterpiece -- not when it has more boobed-violence and '70s camp than Russ Meyer's dream journal.

Boobs, butts, and black magic. The trifecta!

As the trailer will explain -- the movie follows Elaine, a love-obsessed witch driven mad by the patriarchy. Using a combination of "love magic" and a butt-ton of drugs, we spend the next few hours watching as she indifferently burns through lovers like they were classroom hamsters.

With the same teacher backyard burial method.

While looking like a bad sexploitation film, the film is actually sitting in the high-90 percent on Rotten Tomatoes and has been hailed as a feminist masterpiece by many critics. The reason is clear when you watch it, and suddenly realize that what you thought was going to be some shallow Tarantino-esque Grindhouse tribute is actually about the cultural stigmas and expectations that come with a woman's sexuality. For while the face-value victims appear to just be her male companions, the more we learn about Elaine's past the more we realize that she's a victim as well, of the patriarchal society that made her a monster.

At least I'm pretty sure that's what it's about. Not to sound sexist, but as a man there were times where it felt like the message simply went over my head. And that's totally fine, because there was still a lot of nudity and pretty colors to keep me entertained between screaming "don't drink that, bro" at the TV.

Seriously, bro.

Do you know of an amazing upcoming film that no one seems to be talking about? Don't be shy! Tweet to Dave about it!

Also check out 7 Awesome New Movies Nobody Told You About and 6 Crazy New Movies That Slipped Under Audiences' Radars.

Subscribe to our YouTube channel, and check out 7 True Stories That Should've Already Been Made Into Movies, and other videos you won't see on the site!

Follow us on Facebook, and we'll follow you everywhere.