The Russian government's story doesn't invite comparison to Teddy Roosevelt so much as it drunkenly demands that comparison via megaphone. Putin was visiting a nature reserve to see some scientists studying the Amur tiger (because if you ran a country, you'd take every opportunity to hang out with tigers, too). Somehow, a surprise tiger (they're ALL surprise tigers) found its way to some delicious photographers and pounced. The men survived only because Vladimir Putin had the foresight to be lurking nearby with a rifle.
Putin tranquilized the shit out of that tiger bastard and saved the day. Yes, it does sound a little like the kind of claim someone nicknamed Lying Joe Bullshitowitz would drunkenly make at a bar, but this was a major PR event for a nation whose name doesn't rhyme with "Borth Florea." Surely it couldn't be some sort of tragic, nightmarish fake?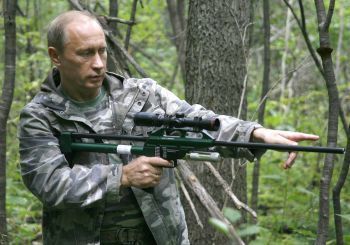 AFP / Stringer / Getty
It's much more believable that the leader of a world power gets to wander alone through the jungle.
Of course, tragic nightmarish things are Vladdy Poo's bread and borscht: The whole encounter was a setup. Putin had a zoo tiger kidnapped, tranquilized, and snared so he could take pictures of it. Being the sort of wussketeer who'd fake saving a life, Putin apparently lacked the hammer and sickle to face a tiger with less than three times the recommended dose of tranquilizers. And then the tiger died, because we live in a terribly sad world.
Since I didn't end on a joke, feel free to imagine Putin with a fleshy hammer and sickle dangling from his taint. I think you'll agree it was time well spent.
AFP / Stringer / Getty
As was this graffiti.