5 Real Ways to Get High Straight Out of Science Fiction
a form of beta blocker, which have long been used for their calming effects by pretty much anybody with nerves. Musicians, athletes, lawyers and teachers all swear by them for maintaining your cool when a shit ton of people are looking at you for extended periods of time and you think your fly might be down. It's most often prescribed for circulatory disorders like hypertension, because it affects blood flow. However, it's most often abused for it's suppression of the physical effects of your fight or flight reflex. If, say, a horse-mounted lion leapt out at you, roaring and neighing it's terrifying battle cry, your body would shoot adrenalin throughout your system, allowing you to react faster and hopefully get away.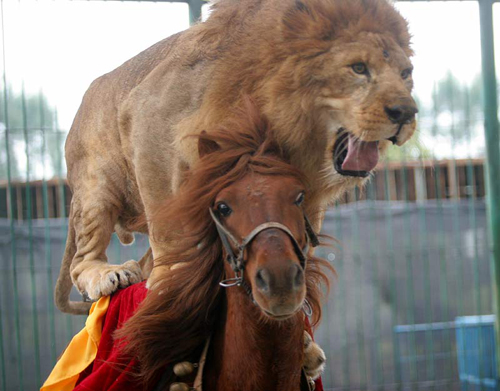 This is a handy instinct for actual fight or flight scenarios, but these signals frequently get crossed, and come in quite a bit less handy when you're trying to tell a girl how beautiful her eyes are and your body is essentially still screaming "HOLY SHIT! LION! RUN!"
"JESUS CHRIST IT'S A WOMAN! GET IN THE CAR!" In short, it's artificial confidence in pill form. It does not muddle your thoughts or change your personality in any noticeable way, it just suppresses nerves. Finally allowing you to deliver lines like "do you have colon cancer? 'Cause that ass is killer!" without your voice shaking like a pubescent Parkinson's patient. The Pros Sure, other drugs like alcohol inspire a sort of artificial confidence – but that's really more like reduced judgment that comes along with mental impairment. So while liquor may give you the confidence to use your best lines on pretty girls, you're also more likely to screw them up and end up saying something more along the lines of "do you have colon cancer? 'Cause it looks like a tumor. YOU'RE NOT BETTER THAN ME!" Propanolol gives you booze-nerves without the retardation. The Cons Among the side-effects are nightmares, confusion, and hallucinations. So to further elaborate on this example, you may well have the mental acuity and confidence to pick up on a pretty girl, but she may only exist slightly between this plane of light and the next and have tits made out of snakes and fire.
Consequence-Free Drugs
There are two ways to progress technologically, you can invent entirely new and innovative products, or you can just improve on existing ones. They're both valid approaches; somebody invents cold fusion reactors, for example, and somebody else puts a clock in them and makes them syncable with your iPod. Acomplia is more along the lines of the latter approach. Initially used to treat marijuana and heroin addiction (although, come on, marijuana addiction? You ever sucked dick for weed?)
"The answer is yes." Acomplia was later found to have other effects when the heroin addicts ordered to detox on Acomplia (surprise!) still took a shit-ton of heroin anyway. They found that, when taken with certain other drugs (pot and smack, mostly, but limited effects have also been observed with nicotine, hence its common prescription to quitting smokers,) Acomplia, rather than neutralizing the intoxicant effects of other drugs, instead drastically reduces their side-effects. In other words, instead of preventing heroin addicts from enjoying heroin, it just removed all of the unpleasant consequences. Now, its uses for heroin are clear enough – coming down off the Old Tijuana Waterslide (Editor's note: That's not actually a nickname for heroin) is a hellish experience full of delirium, cold sweats and nausea. But it also reportedly eliminates side-effects for weed as well. Which begs the question: What side effects? Does it rid you of the desperate need for convenience store nachos and the sudden desire to converse in-depth about religion? The Pros Acomplia is also prescribed and has been proven rather effective as an anti-obesity drug. So to recap, it reduces the negative side-effects of recreational drugs, helps you quit smoking, and gives you kickin' abs. It's the kickin' abs that really sends this one over the believability edge, and straight into sci-fi territory. That's just slightly too good to be real. It's like an infomercial promising that their device slices, dices, reunites you with your estranged father, makes julienne fries, and brings you to earth-shattering orgasm with every use. The Cons It works by messing with the Endocannabiniod system, which is a pretty scary thing to fuck with. It controls pleasure, pain tolerance, and relaxation. So, considering one side effect seen was crippling depression, and another was the resurgence of dominant Multiple Sclerosis in one patient, maybe you should just deal with the beer gut, hangovers, Funyuns cravings and lengthy arguments about whether or not god is really like, this green and pink ball of light that you saw one time in the parking lot of the Circle K.
---
Read more from Robert at his own site, I Fight Robots, where you can be assured that there will never, ever be a discussion about spirituality versus religion or the importance of vegan shoes.