5 Apps That Have Rampant Discrimination Built In
Technology was supposed to be the great leveler -- the thing that brought all of us together on an equal playing field and improved all of our lives. And it did that, in the sense that we now have the ability to stalk our exes and decide how much hotter we are than their new boyfriend or girlfriend. But in other areas, technology has really let us down. Specifically, the brave new world of apps. You probably have a couple dozen sitting innocently on your phone right now, not realizing the havoc they are just waiting to cause.
Tinder Charges Premium Users More Based On Their Age
Tinder is unashamedly the dating app for people who hate reading and let their genitalia do most of the thinking. You base your left or right swipes on how hot the person's picture is and basically nothing more, because some people don't need to know you love Star Wars and Harry Potter (just like everyone else in the world) before they decide they want to bone you.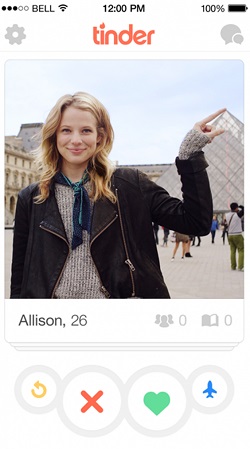 "She's obviously into ... triangles? That works. Whatever."
But in March of 2015, the previously completely free app brought in a new Tinder Plus subscription model, which had extra features. You could undo a swipe, in case you missed a hunk and had to one day tell your grandkids about that super-hot guy you never got to sleep with. You could change your location with the new Passport feature, so you could always find people to bang no matter where you traveled in your desperate search for companionship. And you could have unlimited swipes, letting you like every single picture in the hopes that someone, anyone, would like you back.
But there was a catch: There were two different price levels for Plus, and how much you paid depended on how old you were. People under 30 get charged $9.99 per month, while those who have passed that birthday need to shell out double that, at $19.99. (In Europe, the age limit was 28, which I assume means they think Europeans are two years uglier than Americans.)

This is what wine and cigarettes does to the average 29-year-old Frenchwoman.
The company's co-founder explained the pricing difference by saying that they needed to charge younger people less since they have less money in general. But we all know that's bullshit, because it doesn't explain why they have to charge older people more. My theory? They are totally playing on the fears of people who have hit the big 3-0 and aren't married or in relationships. This is a dating app looking you in the eye, telling you that you are an old maid, and then making you pay for the privilege of hearing that.
Scroll down for the next article