Richard Pryor Comedy Album Reissues Prove He's More Relevant Than Ever
The news isn't that Richard Pryor is back on vinyl (although he is). What the upcoming reissues of two of Pryor's earliest albums, Richard Pryor and Craps (After Hours), along with the vinyl debut of Live At The Comedy Store, 1973 demonstrate is how amazingly well Pryor's stand-up holds up, even decades after the albums' initial releases. 
All three albums are essential historical documents of a critical time in Pryor's career. He'd spent nearly a decade performing squeaky-clean routines on The Merv Griffin Show and The Ed Sullivan Show, but by the late 1960s, he confessed "I was doing material that was not funny to me," according to Scott Saul's Becoming Richard Pryor. It was time for a radical change. 
Richard Pryor, with the comic nearly naked on its cover, was released in 1968 at that seismic time in his career. In the reissue's liner notes, Saul pinpoints where Pryor's head was at: "Richard Pryor alerted the world that Pryor had stepped out of Bill Cosby's long shadow and developed a style — surreal, nervy, improvisational — that was all his own."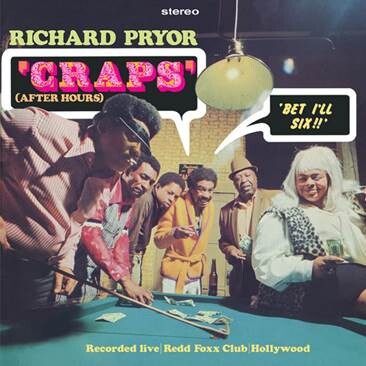 1971's Craps (After Hours) came continued that evolution. "The performances capture the moment where Richard Pryor stopped being polite," says Dolemite Is My Name screenwriter Larry Karaszewski in his introduction to the Craps package. "Where he took off his suit and tie and gloves. Where Pryor began to reflect what was happening in the streets and in the counterculture."
The material Pryor developed during this portion of his career still resonates. Part of the reason is his ability to inhabit fully drawn characters, generating laughs through relatable humanity, not in-the-moment punchlines. And while Pryor could be topical, his comedy subjects were mostly timeless. Sure, Pryor performed a handful of Nixon jokes in '73 — how could he not? — but most of his material tackled topics that would stand the test of time. Check out these sample tracks from Live At The Comedy Store, 1973:
Fighting

Masturbating

Dope

Sex

Religion

Cops
Yeah, we're still dealing with all of those.
None of the tracks recorded for Live at the Comedy Store, '73 were meant to be released, but their loose, improvisational feel is part of the charm. On Religion, we hear everything that made Pryor his own kind of comedy deity. There are his astute observations about the cynicism of organized religion: 
"Has God touched you today? Have you been touched by Jesus Christ? Jesus Christ, the savior of us all who once touched a rock and turned it to stone? He will be in town June 13, 14, and 15. Two shows a night." 
Pryor effortlessly slips into the guise of the preacher, plodding and reassuring at first, then increasingly charged with the Holy Spirit. The raucous Comedy Store crowd unwittingly becomes part of the routine, caught up in the hiccuping rhythms of the man trying to convert them to Jesus:
"I never will forget. The first time I saw God. It was in 1929. I was walking down the street. I said I was walking down the street. Eating a tuna fish sammich. Hail Jesus. And this sammich was in my hand. And I heard a Voice. And the Voice had power. And the Voice had glory. And the voice asked me: Could I have some of that sammich? Whoooo!" 
How can we measure the relevancy of the Pryor reissues, available from Stand Up! Records? Here's how we know they hold up: The irreverent recordings from his most formative years pissed off people then and they're still going to outrage people today.