Give The Gift Of Apple Without Paying Full Price
This piece was written by the Cracked Shop to tell you about products that are being sold there.
We all want to win the holiday season, right? One of the most ironclad methods of doing that is by gifting some fancy piece of technology, and you know the kids these days are all about their Apple products with the way they shame the green text bubble.
Fortunately, you don't have to pay full price to give a cool Apple gift this year. We've pulled together a collection of accessories, refurbished electronics, and more that are all on sale for a limited time. Check them out!
Apple AirPod Deep Cleaner (2-Pack), $14.99 (reg. $29)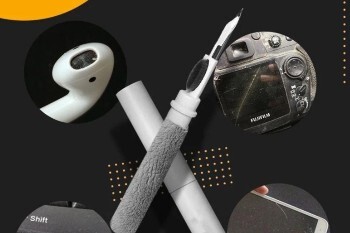 Your ears are nasty, which is why your AirPods look like a lost desert planet after you've worn them for a while. Degunkify them with this specially designed kit so you can look yourself in the eye again.
3-in-1 Apple Watch, AirPods & iPhone Charging Cable, $24.99 (reg. $34)
Sick of the cable clutter or know someone who is? (It's a statistical certainty.) This handy charging cable includes ends to charge two Lightning devices and an Apple Watch at once. Just pop the USB end into your laptop.
3-in-1 USB-C, iPhone & Apple Watch Lightning Charging Cable, $16.99 (reg. $39)
This is the same thing as the cable above, but instead of two Lightning chargers, you'll get one Lightning and one USB-C charger instead. That way, you can charge your new MacBook, too!
4-in-1 Multi-Port & Apple Watch Charging Cable, $17.99 (reg. $34)
Okay, we know it makes no sense, but you can get an extra Lightning cable output by paying $7 less. Give the gift of reality-defying math!
Wireless Charger Stand for iPhone, Apple Watch, & AirPods, $46.95 (reg. $70)
Take your war on cable clutter even further with this sleek charging stand that lets you power up your iPhone, Apple Watch, and AirPods simultaneously without any wires. Really stick it to the cable industrial complex.
Apple Watch Wireless Charger Keychain (4-Pack), $72.99 (reg. $199)
If you're part of an Apple Watch gang, gear everybody up with this ingenious portable charger that fits on your keychain. The magnetic charging pad keeps your Apple Watch securely in place while charging it on the go.
Apple iPad 5 128GB (Refurbished: Wi-Fi Only), $234.99 (reg. $260)
This 2017 iPad covers all of your basic computing needs in a 9.7" multi-touchscreen tablet with an Apple A9 chip, supporting effective multitasking. You'll have 128GB of storage, dual cameras, and the ability to connect with external devices to play music, attach keyboards, and more.
Apple iPad Air 2 128GB - Silver (Refurbished: Wi-Fi Only), $239.99 (reg. $266)
Need something even sleeker and more portable? This 2014 model is even more lightweight than traditional iPads while still providing powerful performance and 128GB of onboard storage.
Apple iPad 6th Gen 9.7" 32GB (Refurbished: Wi-Fi Only) + Accessories Bundle, $249.99 (reg. $399)
A 2019 iPad for $150 off? Sign us up! This 9.7" Retina display tablet has an Apple A10 chip for outstanding performance, 32GB of storage for all of your files, and cameras on either side, making it useful for taking video calls when you're traveling or working from home.
Apple iPad mini 4, 128GB (Refurbished: WiFi + 4G Unlocked) & Accessories Bundle, $289.99 (reg. $729)
Get an astounding more than $400 off to get online absolutely anywhere with this 4G unlocked iPad mini 4! Perfect for traveling or commuting, this ultra-thin tablet is powered by an Apple A8 chip and offers an outstanding 128GB of storage so you can manage all of your important files and get down to business while you're on the go.
Apple MacBook Air 13.3" (2015) i5, 1.6GHz 4GB RAM 256GB - Silver (Refurbished), $365.99 (reg. $1,109)
For more than $600 off, get the MacBook Air, the perfect laptop for remote workers and freelancers who spend a lot of time flitting around from assignment to assignment and coffee shop to coffee shop. This lightweight 2015 model has a 1.6GHz Intel Core i5 processor, an Intel HD Graphics 6000 card, and 256GB of onboard storage.
Apple MacBook Air 13.3" 8GB RAM 128GB - Silver (Refurbished), $399.99 (reg. $1,599)
Upgrade to a 2017 MacBook Air model and get double the RAM and a faster processor for only $35 more and -- yes, you read that right -- $1,200 off the regular price. We'll have to double check this one. It might actually be illegal somehow.
Prices subject to change.
Scroll down for the next article