The Great Twitter Account That Tracks NBA Players Tweets About Movies
History and Shaquille O'Neal have shown us that NBA players appearing in movies is a mixed bag, but NBA players talking about movies is somehow some of the most entertaining content on twitter – @NBAFilmTweets has been retweeting the absolute best takes that current and former NBA players have had about their favorite (and least favorite) films since the account started last month.
As the unofficial Letterboxd account of the basketball world, NBAFilmTweets paints a vibrant and complex picture of the sport's biggest cinephiles. These tweets have shown us that you can't generalize the film tastes of pro ballers – they like everything from auteur cinema to Twilight – but we have noticed a few trends. Basketball players like Tarantino and Scorsese, they prefer comedy to tragedy, they're partial to Clint Eastwood, and, above all else, they LOVE Zoe Saldana.
Most of these tweets come from the early years of Twitter when the website was slightly more chaotic and those who used it were significantly more uninhibited with the thoughts they chose to share. Kevin Durant had more tweets than career points until just last season, an impressive feat considering the future hall of famer currently sits at 21st on the all time career scoring list in NBA history. NBAFilmTwitter serves as a time capsule for those early athlete tweets, and the result is a quaint look at the stream-of-consciousness style posts of Twitter's Wild West.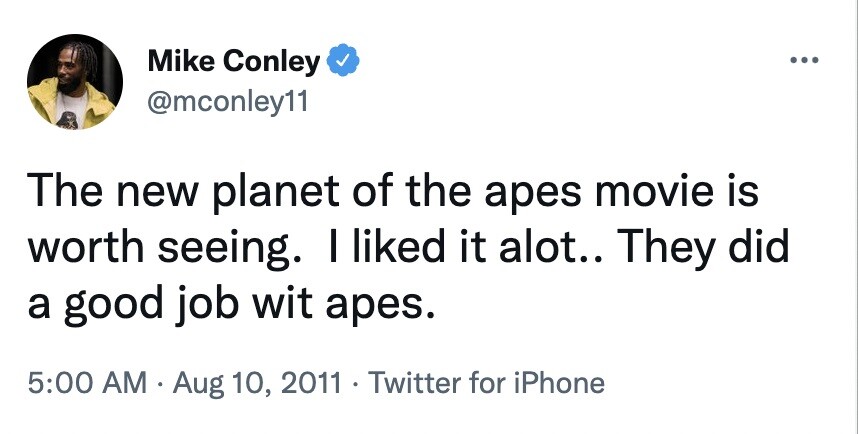 Some of these late-aughts-to-early-2010's tweets are shocking, not just for the content but because I truly cannot imagine a professional athlete ever publicly admitting to being as passionate a fan of the Twilight series as Patrick Beverly did in 2011-2012.
NBAFilmTweets gives us a chance to appreciate some of the lesser-known personalities in the league – Richaun Holmes comes off the bench for the Sacramento Kings, a historically mediocre and wholly unremarkable franchise, but, when he retires from the league, he should seriously consider a media career. ESPN might need a film critic.
Of all the films mentioned in these tweets, none is more widely debated, discussed, and dissected as Pulp Fiction. Tarantino is clearly one of the NBA's favorite directors, but, just as his seminal 1994 classic was divisive upon release, so it has been among basketball's elite. Just look at the journey 6x All-Defense guard Tony Allen went on during his viewing:
As one can expect from any early-twitter rabbit hole, not all of the tweets have aged quite as well as G-League small forward Zylan Cheatham's touching and accurate assessment of the Rugrats movie. Some of these tweets fall under the category of "your publicist should have deleted this the moment you hired them", like Suns star Devin Booker's unfortunate take on Schindler's List.
Still, we appreciate the unfiltered opinions and thought-provoking discussion started by these world-class athletes and critics. When they're not on the court, these players have found ways to occupy their free-time just like the rest of us, albeit with a few hundred more millions of dollars than we have at our disposal. Just like us, they don't like having their time wasted – Chicago Bulls center Nikola Vucevic had a reaction to Star Wars: The Last Jedi that many of us frustrated fans can understand.
Twitter has given us an unprecedented glimpse into the inner lives of the most popular athletes in the world, and NBAFilmTwitter continues to give us honest, relatable, and hilarious movie reviews that all deserve to be in either the Criterion Collection or the Basketball Hall of Fame. Give the account a follow if you want to continue to see the most poignant film takes in basketball. We'll leave the final word to 3x Sixth Man of the Year and twenty-year veteran Jamal Crawford:
Jerry West couldn't agree more.
Top Image: Touchstone Pictures
For exclusive ComedyNerd content, subscribe to our spiffy newsletter:
Scroll down for the next article