'Andor' Is Secretly Remaking 'The Phantom Menace'
Critics are hailing the new series Andor as a more mature take on the Star Wars universe that in no way involves wacky musical numbers or CGI aliens stepping in animal poop. But despite this distinctly fresh new direction, in many ways, Andor is paying homage to one of the most familiar and goofiest of Star Wars movies: The Phantom Menace.
While Cassian Andor has yet to enter a podrace or awkwardly hit on a visiting dignitary (though there are still several episodes to go), he does, to some extent, become an Anakin Skywalker-esque figure in the second and third episodes, which retell the key story beats of The Phantom Menace. A stranger from another world (Qui-Gon Jinn and Luthen Rael, respectively) visits a remote planet in search of much-needed tech.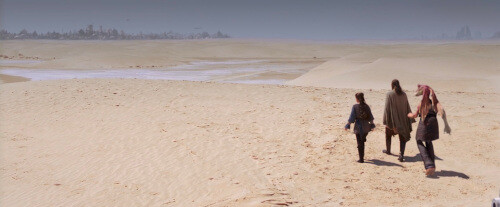 But the stranger becomes much more interested in the special person he finds there – Anakin is connected to the Force, while Andor is able to handily dupe the Empire and steal crap. So the stranger wants to enlist them to join their cause on another planet. Of course, it's way less creepy with a full-grown adult Andor. 
So he whisks them away from the planet, leaving behind their friends and a single mother.
And in both cases, this doesn't go well. Anakin, of course, becomes Darth Vader, while Andor goes on to work for the Rebellion and becomes the emotionally-detached killing machine we first meet in Rogue One. Furthering the episode's ominous tone, Andor leaving with Luthen is intercut with flashbacks of when he was taken from his home in Kenari by his adoptive mother – which is a pretty loaded scene. While she is attempting to save his life from the Empire, this also evokes the real-world history of forced adoptions and assimilation of Indigenous children. And within the reality of the show, this has clearly scarred Cassian, who nearly blew up his life by committing two murders in the pursuit of reuniting with his sister.
The cardinal sin of Star Wars has always been separating children from their families; it's what led to the fall of the Jedi and the rise of the Empire in the first place. So it makes sense that Andor would thematically shout out the events of The Phantom Menace (minus the two-headed alien sportscasters).
You (yes, you) should follow JM on Twitter! 
Thumbnail: Lucasfilm
Scroll down for the next article