15 Smart Facts About The Making Of 'Legally Blonde'
This year marks the 21st anniversary of Elle Woods bursting onto our screens to make fun of Harvard/Stanford elitists and take the "tiny pooch in a tinier handbag" craze to a whole new level. We're sure the movie now has copyright on the color pink, too. Here's a list of some behind-the-scenes stories of the film that taught everyone and their grandmas how to "Bend and Snap."
The Film Is Based On The Author Of The Book's Experience At Stanford Law School
Amanda Brown read Elle magazine and wrote letters to home in which she mocked her fellow law school classmates — specifically the ones she didn't relate to. Those letters became both a book and a movie.
On her experience at Stanford: "I was in my first week of law school, in 1993, and I saw this flier for 'The Women of Stanford Law,' so I was like, 'I'll go and meet some nice girls. Whatever.' I went to the meeting, and these were not women. These were really angry people. The woman who was leading it spent three years at Stanford trying to change the name 'semester" to "ovester.' I started laughing and I realized everyone in the room took it very seriously. So I didn't make any friends there."
Matthew Davis Based His Character On George W. Bush
The actor who plays the preppy ex-boyfriend Warner Huntington III read the former U.S. president's biography to get into the mind of his character.
The 'Bend And Snap' Was A Drunken Idea
The producers wanted to give Jennifer Coolidge's character Paulette something integral to do and be remembered for. They played around with ideas like a robbery at her store, but then came up with the bend-and-snap signature while getting drunk at a bar. Sounds about right.
Elle Woods Was Almost Played By … Everybody Else
The studio executives initially wanted either Tori Spelling or Christina Applegate to play the iconic talks-a-mile-a-minute Woods. Applegate turned down the role because she didn't want to play "the ditzy blonde" again. She later called it "a stupid move." Other actresses who were considered included Gwyneth Paltrow, Charlize Theron, Alicia Silverstone, Katherine Heigl, Milla Jovovich, and Jennifer Love Hewitt.
The Studio Thought Reese Witherspoon Was Basically Her Character In Election
While the director wanted Witherspoon for the role of Woods, the studios apparently thought she was too much of a shrew. Said Witherspoon: "My manager finally called and said, 'You've got to go meet with the studio head because he will not approve you. He thinks you really are your character from Election and that you're repellent.' And then I was told to dress sexy."
The True Story Behind The Toilet Paper Vote
Co-screenwriter Karen McCullah Lutz was a sorority sister while attending James Madison University, where she gave fellow sisters activity points for stealing toilet paper from the administration building.
Luke Wilson Didn't Need To Audition To Play Emmet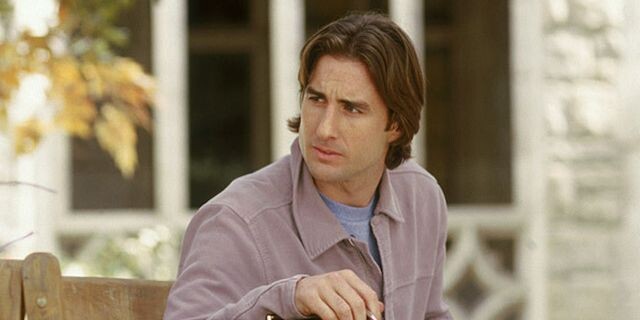 Said screenwriter Kirsten Smith:  "We spent a lot of time faxing the casting director, like 'Luke Wilson, Luke Wilson!' And then finally after the table read where a different actor played Emmett, we were like 'Luke Wilson, Luke Wilson!' And he was like, 'That's a really good idea.' We were like, 'We've been telling you!'" 
Reese Witherspoon Kept The Entire Wardrobe
It apparently includes 77 pairs of Jimmy Choos, and she had the stunt written in her contract. She said she mainly wanted to hold on to all the shoes and the 60 outfits to keep it from being sold on the internet. "It really bothers me. Imagine some sicko in Wisconsin smelling the seams…it creeps me out." 
Ali Larter Literally Put Her Butt On The Line To Get A Part
The actress was originally going to play one of Elle's sorority sisters, but ended up auditioning for the part of Brooke Windham. While reading the lines of Brooke's liposuction confession — specifically the one where she says "It's not like normal women can have this ass!" — she improvised, hard. "I remember it being like, 'How can I really sell him and show him that I really want to do this part and that I can make this believable and fun. And I just reached over and I grabbed my ass as hard as I could and just went for it. And he was like, 'All right, you got it girl. You committed.'"
Reese Witherspoon And Luke Wilson Were Wearing Wigs In The Final Scene
The graduation scene was shot after test audiences didn't like the original ending that saw Elle Woods and Vivian forming a "Blonde Legal Defense Club" (with Vivian dyeing her hair blonde, naturally). By then, Witherspoon had already moved on to film The Importance of Being Earnest, in which she changed her locks. Luke Wilson had shaved his head for The Royal Tenenbaums, which meant they both needed wigs to at least kind of look like their characters.
Alanna Ulbach Was Allowed To Get Creative With Her Role
Playing sorority sister Serena, Ulbach said that while chatting to a Vietnamese background actress on the nail salon set, she thought it would be cool if her character picked up the language herself, since she spent so much time at the salon. She asked the director if she could try reading a line differently, and that's how Serena ended up speaking Vietnamese in the movie.
One Scene Had Reese Witherspoon "Sweating Buckets"
During Elle's first day at law school, Witherspoon had to wear that button-up number in some hellish hot weather. She said the costume designer had to convince her to keep the clothes on because she was ready to strip down.
Selma Blair Was The Last Casting
Chloe Sevigny was originally asked to play the part of Vivian Kensington, but she turned it down, thinking it would just be another nothing rom-com. Blair joked that Sevigny's "fingers are much too elegant; they needed someone with a bony little finger."
There Was Supposed To Be A Huge Musical Number
The "Bend and Snap" scene was originally going to be a lengthy, over-the-top musical number, but it got trimmed down in the end. Witherspoon explained on Instagram: "That's why when you see it in the movie, everybody is dancing. But it was a fully choreographed number by Toni Basil, and she was awesome. She did the whole dance."
There's A Josie And The Pussycats Shoutout
The older woman next to Elle on the salon couch is reading Seventeen magazine with the pop band on the front cover. It's a nod to producer Marc E. Platt (father of Ben Platt), who produced both Josie and the Pussycats, and Legally Blonde. 
Thumbnail: 20th Century Studios