11 Comedies Hollywood Planned Then Canned
For every movie that gets made there are 10,000 movies that are thrown in the trash. Some may be sequels to your favorite films (that have no business being revived), and others may be a pipe dream of a former children's entertainer. Here are 11 movies that were nearly released to the world but were removed for public safety.
Ferris Beuller 2
Have you ever thought, "Ferris Bueller's Day Off really needs a sequel? There was so much story left to tell!" If you have, you are just like tens of other people who have thought the same. Talks have circulated for years about reviving the film with no success other than a one-off commercial featuring Matthew Broderick reprising his role in an ad for the Honda CR-V, which many fans mistook as an announcement for a new film. Actor Alan Ruck hoped the film would return in the shape of Ferris saving Cameron from a nursing home in their 70s. Unfortunately due to the death of director John Hughes, who also spoke of interest in a sequel, the film will most likely never surface.
The Nicktoons Movie
In 2015 a Nicktoons movie was teased featuring a crossover cast of Nickelodeon original characters like Spongebob, Ren & Stimpy, Rocko, and Doug.  Napoleon Dynamite's Jared and Jerusha Hess were firmly at the helm of this revival, but due to complications, the project fizzled out. Many rumors circulated as to why, so it's hard to find a concrete source. It was confirmed, however, that the co-creator of Ren & Stimpy was told Ren & Stimpy will not be appearing in any Nicktoons revival project, due to the cartoon's soured reputation with the company.
Beetlejuice Goes Hawaiian
Beetlejuice is just one of those perfect movies, and what's better than making a perfect movie twice? Warner Bros had that chance when they commissioned the script Beetlejuice Goes Hawaiian. The script was written in 1990 by Jonathan Gems and featured the Deetz family moving to Hawaii to build a vacation resort. They quickly learn the construction site is an ancient burial ground: Enter Beetlejuice. The project never came to fruition as Warner Bros wanted Burton and Keaton to focus on a Batman sequel, and Winona had aged out of the role by the time they had finished. 
Atuk
Atuk is a film that spent a long time in development hell and never came to fruition, but the most interesting part about it is what's known as the "Atuk curse." In 1982, John Belushi read for the main role in the film and died just a few weeks later of a drug overdose. Sam Kinison accepted the role in 1988 but production halted when Kinison quit and attempted to sue the production company. He died in a car crash soon after. John Candy was approached about the role in 1994 and given a script but died while the script was in his position. Chris Farley accepted the role in 1997, the same year as his early death. 
The Family Guy Movie
The Family Guy Movie has been a long time dream of the series creator Seth MacFarlane. The project has been on MacFarlane's radar for over a decade, and he told Today in 2019, "We've been talking about this for ten years. The Family Guy Movie is still on my To-Do list... I have a pretty clear sense of what it's going to be. I have for some time. But I just haven't gotten around to it." MacFarlane was a huge fan of The Simpsons movie, and rumors circulated that his series film would be releasing in 2022, however no further reports have surfaced, and The Orville reboot seems to be the only thing on MacFarlane's mind a the moment.
The Animated Popeye Movie
The Popeye movie was prepared to be the animated hit of the summer after it was teased. The film was teased in 2010 and was going to be directed by Hotel Transylvania director, Genndy Tartakovsky with a 2015 release date. However, the film was canceled in order to focus on The Emoji Movie. Hindsight is 20/20.
The Mask 2: Jim Carrey Version
A true sequel to The Mask was proposed as soon as the original made waves at the box office. Nintendo Power Magazine even ran a contest in association with The Mask 2, offering up the contest entrants a chance to appear as an extra in the film. Unfortunately, Carrey chose to focus on Ace Ventura 2: When Nature Calls instead of The Mask sequel, and the contest winner instead received a The Mask 2 jacket from New Line Cinema, some free Nintendo games, and $5,000 dollars.
Beverly Hills Ninja 2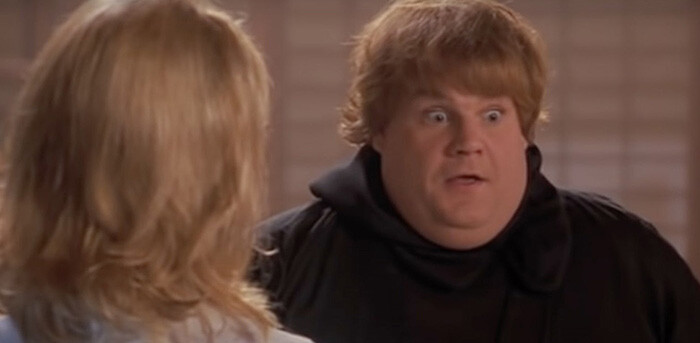 Beverly Hills Ninja 2 was set to star David Hasselhoff and large portions of the film were already shot and exist somewhere in the universe. The film was directed by the original film's co-writer Mitchell Klebanoff, but his relationship with investors soured, leading to lawsuits being filed on both sides. Sorry gang, no Hasselhoff Beverly Hills Ninja 2.
0
The Peewee Herman Story
Paul Reubens has spoken about his idea for a dark Peewee Herman adaption on a few occasions, which would take the childlike comedy icon, and throw him into deeply depressing adult situations, like alcoholism and psychiatric wards. Reubens pitched the idea around Hollywood in 2020, but many are afraid to bankroll the star's idea, including his former collaborator, Judd Apatow.
Monsters Inc. 2: Lost In Scaradise
Monster Inc. 2: Lost In Scaradise was the scrapped sequel for Monsters Inc., which was even partially storyboarded at the time of its planning. The plot took place a year after the events of the first film, when Sully goes to visit Boo for her birthday in the human world. When Sully and Mike enter the door they are in a room with an old dying woman instead of their sweet toddler friend, so they set out to find Boo. The film ends with the duo realizing time moves faster in the human world, and that the old woman was Boo all along.
Elf Sequel
Elf has gone down as one of the most iconic Christmas films of all time thanks to Will Ferrell's performance as Buddy The Elf, so, why wouldn't they make a sequel? A sequel to the immensely popular movie was written and pitched to Ferrell, but he turned it down to preserve the integrity of the character. He was offered $29 million dollars.
For exclusive ComedyNerd content and more, subscribe to our spiffy newsletter:
Top Image: New Line Cinema
Scroll down for the next article