15 Comedians Whose TV Shows Just Didn't Work
Some comedians aren't meant to have sitcoms, and some sitcoms just aren't meant to be made in the first place. Here are 15 shows that didn't last despite starring wildly talented comedians. May they rest in peace, and never return from the grave as zombie shows.
John Mulaney - Mulaney
John Mulaney's sitcom Mulaney looks like it would have been a huge success on paper. The cast was stacked with Nasim Pedran and Martin Short as series regulars, but audiences just couldn't get into the Seinfeld-esc multi-cam sitcom. The series felt too dissimilar to Mulaney's normal style and Mulaney was unhappy with the sitcom medium, which he spoke about in an interview with The Washington Post. Mulaney said "I don't like to say I'm glad it didn't work because a lot of people lost a job, but I'm glad it didn't work. It was like, the best thing that ever happened."
Mulaney went on to begin work on his much more successful work Oh Hello On Broadway just one month after Mulaney's cancellation.
The Michael Richards Show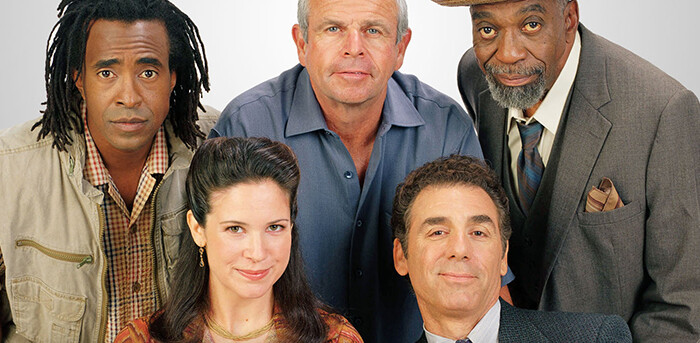 After Seinfeld went off the air, studios pursued the entire cast in hopes to throw them own into their own shows that would ride off the popularity of Seinfeld. For Michael Richards, this came in the form of The Michael Richards Show. The show centered around a comedic take of Columbo, with Michael Richards playing a private investigator. The character named Vic Nardozza never found a true footing, as it was essentially just a Kramer ripoff. The show only lasted a single season.
The Chevy Chase Show
Chevy Chase's late-night talk show only lasted a month before it was canceled. Many problems led up to it, including that Chase didn't even want it to be a traditional late-night show, until Fox advertised it as "filling the late-night gap." After a couple of weeks, it had become apparent that Chase was giving up on the show, and made barely any effort on camera to be professional or interesting.
Craig Robinson - Mr. Robinson
Craig Robinson's sitcom Mr.Robinson seemed to have decent bones to it. Robinson was still coming off of the high from The Office and Greg Daniels even signed on as an executive producer. The show was even based on Craig's real life as a former music teacher. The show wasn't great or terrible, it was just sort of…there, resulting in its cancellation after its first season.
Jason Alexander - Bob Patterson
Jason Alexander's follow-up to Seinfeld, Bob Patterson, also fell prey to the "Seinfeld curse." The show featured Alexander as a motivational speaker, who closely resembles George Costanza. Alexander even said, "We purposefully created Bob out of the ashes of George." Only five of the ten episodes made it to air making it the shortest-lived show of the Seinfeld curse.
Chelsea Handler - Are You There Chelsea?
Chelsea Handler's book entitled Are You There Vodka? It's Me Chelsea was the inspiration behind her one-season sitcom Are You There Chelsea? The show's cast was impressive with fellow comedians Natasha Leggero, Ali Wong, and Lauren Lapkus appearing as series regulars, but the 2012 show about Handler as a 20-something bartender didn't pique fan's interests.
The Tracy Morgan Show
Margaret Cho - All American Girl
Before Fresh Off The Boat there was 1994's All American Girl starring a full Asian cast including Margaret Cho as the rebellious daughter. The sitcom only ran from September 1994 to March 1995. BD Wong, who portrayed Cho's brother on the show, says the issue with the series was "they took the raw uncut diamond that was the 24-year-old Margaret and just sanded her down. Ellen and Roseanne got to be themselves, and those shows were wildly successful. The show's failure had nothing to do with Margaret's Asian-American-ness but in the refusal to present her Asian-American-ness authentically." 
Joel McHale - The IT Crowd
Remember when they tried to bring The IT Crowd to American audiences? The original show which was steeped in absurdist British humor was peddled to America, retaining Richard Ayoade in his role, but replacing Chris O'Dowd with Joel McHale. The show just couldn't capture the original magic and was canceled after the pilot was filmed, leading McHale into his role on Community.