15 Seattle Grunge Landmarks: The Musical Map of the City
The grunge movement of the '90s was one of those weird pop culture phenomena that was hyper-localized. Like, no one knows where screamo comes from, but everyone knows grunge was born in some dirty basement in Seattle. It turns out it was a lot of dirty basements.
A Literal Sound Garden
Just what is a soundgarden, anyway? It's actually a sculpture near Lake Washington made of pipes and wind vanes that produce melodic toots and after which the band named themselves. It's basically a bunch of really big wind chimes.
Young Street Bridge
You know the bridge Kurt Cobain sings about living under in "Something in the Way"? It's this one. Well, supposedly. A lot of people close to the singer deny it, but he definitely hung out there a lot. No word on whether he trapped any animals.
Central Saloon
All the grunge greats played in this bar, the oldest in Seattle, but it's most notable for being the venue of Nirvana's first Seattle show. Luckily, they'd had plenty of practice, because Sub Pop's Bruce Pavitt was in the audience, and despite the lackluster crowd and the general disaffection of the genre's thought leaders, he signed them on the spot.
Screwdriver Bar
Nirvana did all that practicing… not here, somewhere else. But they did use the basement of the Screwdriver Bar as a rehearsal space between the releases of Bleach and Nevermind, so it was definitely the better practicing.
Black Dog Forge
Sometimes, bands had to get creative when it came to where they practiced artfully sucking at their instruments. Pearl Jam and Soundgarden did so in the basement of this blacksmithing shop, a trade now as tragically obsolete as they are.
El Corazon
Once Eddie Veddar got his enunciation just wrong, Pearl Jam played their first shows at this venue, then known as the Off Ramp. It was also where Soundgarden played their set in the quintessential grunge rom-com (yes, that's an accurate if improbable series of words) Singles.
Coryell Court Apartments
If you haven't had the pleasure of experiencing Cameron Crowe's ode to the cultural phenomenon he was obsessed with that month, the title of Singles refers to both its characters and the tiny apartments they lived in. It was these ones!
Pike Place Market's Spoonman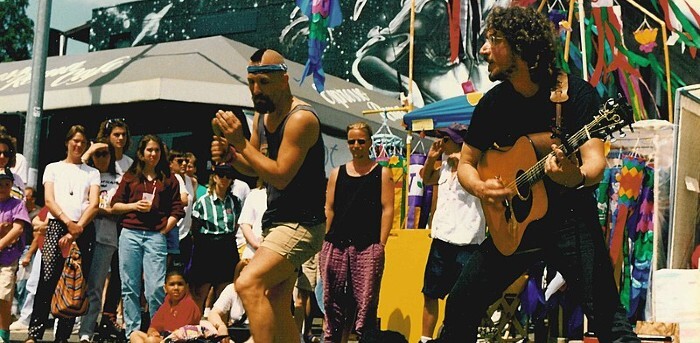 "Spoonman," Soundgarden's breakout single from, uh, Singles, sounds as nonsensical as a soundgarden, but he's just as real. The song is about Artis the Spoonman, who can still be seen tickling the stainless steels on the regular at Pike Place Market.
Re-Bar
Nirvana hosted their legendary release party for Nevermind on Friday the 13th at this venue, where they snuck in illegal liquor, started demanding disco, and initiated a food fight that got them kicked out. Of their own party. Re-Bar was also featured in Singles, because apparently you can't swing a Matt Dillon in this town without hitting a filming location.
Grandview Plaza
Gird your flannels -- it's about to get dark. In 2002, the music world was saddened but not shocked when Alice in Chains frontman Layne Staley disappeared for two weeks, eventually found dead in his condo at Grandview Plaza. When his unit, 5C, went up for sale in 2014, you'd never know anything more devastating than a total lack of color happened there.
Kurt Cobain's House
Of course, no grunge death house is more notorious than Kurt Cobain's home on Lake Washington Boulevard, where he was found in the greenhouse, having (probably) shot himself in the head. You could have bought it a few years ago, but let's be honest, no you couldn't have.
Linda's Tavern
Before he climbed into the greenhouse and created a sticky web of conspiracy theories, Linda's Tavern, known as the "grunge Cheers," was the last place Cobain was seen alive. These days, they'd rather you focus on their boozy brunches.
Kurt Cobain's Olympia Apartment
Not technically in Seattle, but for a cheerier real estate adventure, it's worth the jaunt to Olympia to see the apartment where Bikini Kill's Kathleen Hanna spray-painted "Kurt smells like Teen Spirit" on the walls, inspiring that song you know. You can even sleep there.
Top image: Julie Kramer/Wikimedia Commons