Before 'Death On The Nile,' Poirot Starred In A Wacky Sex Comedy
Legendary Belgian sleuth Hercule Poirot – and the parasitic mustache-shaped alien creature that puppets his lifeless body, we assume – is back in the new movie Death on the Nile starring Kenneth Branagh and … a cast of people Kenneth Branagh would probably prefer that we don't mention right now. Of course, there have been a lot of adaptations of Agatha Christie's Poirot novels over the years, several starring acclaimed actors like Peter Ustinov, Albert Finney, and David Suchet. But one of the truly oddest Poirot movies was 1965's The Alphabet Murders starring Tony Randall, who would later star on TV's The Odd Couple. 
Likely due to the success of the Pink Panther movies, about the bumbling, mustachioed French police Inspector Clouseau, the normally straight-laced Poirot was suddenly played for laughs in a movie that, judging from the poster, was mainly about the great detective investigating the mystery of his own rampaging horniness.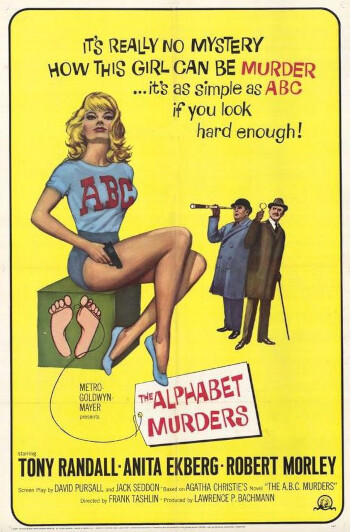 Literally just 10 minutes into the movie, Poirot is approached by a mysterious stranger in a massage room, played by Anita Ekberg, the Swedish bombshell from La Dolce Vita. She tries to strangle Poirot which, naturally, everyone mistakes for one of Poirot's trademark kinky sex games.
The movie is still mostly a straightforward murder mystery, but is crammed full of bizarre sight-gags and campy setpieces – like the scene where Poirot randomly shows off his bowling skills, Fred Flinstone-style. 
And for some reason, Poirot keeps getting hit on by random buxom women who are apparently just super-into guys who can't stop talking about their "little grey cells."
Not to mention the scene where Poirot's associate Hastings seemingly gets it on with a young woman in the trunk of a car.
And, likely, no one was more pissed off about this particular Agatha Christie adaptation than Christie herself; an earlier attempt to film the same project with a different star was torpedoed on the very first day of shooting because "Christie took strong objection to the script" due to the inclusion of a "bedroom scene for Poirot." Hopefully, Branagh will honor Christie's memory by ensuring that Poirot keeps it in his pants for the foreseeable future. 
You (yes, you) should follow JM on Twitter! 
Top Image: 20th Century Studios/MGM