5 Recent Blockbuster Movies That Turn Into Comedies Without CGI
Visual effects technology is getting more and more impressive with every passing year. Hell, it probably won't be long until Deepfake John Wayne and Yassified Gollum star in the latest Fast and the Furious sequel, set entirely on Mars and directed by some random 13-year-old who just happens to own an iPhone. 
But as we've mentioned before (once or twice), the more CGI Hollywood crams into movies, the goofier the behind-the-scenes footage becomes, such as how … 
Ghostbusters: Afterlife – Paul Rudd Looks Like He's Having a Bad Mushroom Trip
A touching tribute to the original iconic Ghostbusters team (which also happens to imply that one of them abandoned and emotionally scarred their wife and child to move into an abandoned firehouse with their work buddies), Ghostbusters: Afterlife is chock-full of special effect-filled setpieces seemingly purchased at Steven Spielberg's garage sale. Like the one in which summer school teacher Paul Rudd jumpstarts a ghost trap and unleashes a demonic dog monster onto school property. This is why we have permission slips, folks.
In real life, filming this scene required forcing People Magazine's sexiest man alive to flail around like he's having a bad mushroom trip which … is still pretty sexy, dammit.
Later in the film, Rudd's character (who we're pretty sure was just named Paul Rudd) ends up being chased by one of Gozer the Gozerian's Terror Dogs through a Walmart. Perhaps this particular malevolent interdimensional entity nabbed themselves a lucrative endorsement deal, or maybe we should just be glad that the Ghostbusters' proton packs weren't suddenly powered by Mountain Dew Baja Blast.
While some shots of the terror dog employed practical animatronic creatures, others were fully computer-generated. To replicate this invisible beast's real-world damage, the filmmakers employed the age-old cinematic tactic of tying a rope to a clothing rack and having a dude hold onto the other end of said rope while jumping off of a goddamn ladder.
Although you have to imagine that this gig was still preferable to being one of the actors forced to suffer the abject indignity of being "slimed" by a crew member.
Still a better job than whoever got stuck having to clean up the Ghostbusters' catheters at the end of the day …
Shang-Chi and the Legend of the Ten Rings – Morris was a Green Blob on a Fishing Rod
One of the best Marvel movies in years and/or a powerful piece of propaganda contrived by the men's jewelry industry, Shang-Chi and the Legend of the Ten Rings finds its titular hero defending the sanctity of the public transit system and journeying to the magical village of Ta Lo, where he befriends mythical creatures and even rides a dragon. In real life, this was accomplished by having actor Simu Liu straddle a slow, dragon scalp-shaped mechanical bull all while being spritzed in the face like a giant head of lettuce in a grocery store's produce section.
Other times he simply had to dangle from the ceiling and get a faceful of leaf blower.
And then there was Morris, the loveable headless, winged furball everyone loved. In reality, it was just a plush green blob stuck to the end of a fishing rod.
Which looked especially odd when being puppeted through a field of smoldering corpses …
Thanks, Marvel, for this glimpse into the alternate universe in which Jim Henson was a total hack. 
The Set of Clifford the Big Red Dog Was a Real Nightmare Factory
Completely sidestepping the issue of how a small family living in the middle of Manhattan regularly dispose of feces the size of a Volkswagen, Clifford the Big Red Dog tells the story of a scarlet puppy who grows bigger and bigger the more he's loved. Thankfully, his owners apparently reached some kind of love ceiling preventing Clifford from going full Kaiju.
Early footage of the CGI pooch pretty much freaked out the entire internet (an impressive feat considering the unspeakable monstrosities that hang around the internet all day and night), but somehow the behind-the-scenes footage is way worse and plays like a particularly inspired found footage horror movie. Like, imagine a pantomime horse, but instead of a horse, it's the blood-red skeleton of a freakishly large weasel skulking around a public park …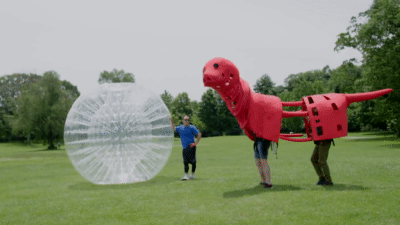 "Clifford" looks even more unnerving when getting right up in your face like a drunken wedding guest.
For the running scenes, they just had a guy carry Clifford's disembodied head and chase children down the street.
Reportedly, the puppet was insanely heavy and arduous to perform, but, hey, no kid wants to watch a movie about some lame pet who's average-size and typically pigmented.
Venom: Let There Be Carnage – Performing Venom Attending a Rave Looks Exhausting
We mentioned before how silly the making of Venom looked, and it turns out that the sequel is no exception – plus, it has the added bonus that many scenes also included the participation of Woody Harrelson, who we're guessing chalked the entire experience up to a funky strain of Sativa. For the Venom effects, sometimes his alien symbiote powers were created using simply a stick holding a stack of mail.
Other times there was a guy on set wearing a skin-tight bodysuit and a Venom bust on top of their head. In one particularly notable scene, Venom abandons his host Eddie Brock and pops by a rave – for the filmmakers, this meant covering their weary faux-Venoms with glow stick necklaces, giving them a distinct "grotesque alien reevaluating their life choices while going through a midlife crisis" vibe.
It could be that the shoot was strenuous and exhausting – or it could be that this is the moment that whatever was wafting in from Woody's trailer just hit.
Jungle Cruise – The Rock Fights With a Guy in Leopard Print Tights
Perfectly replicating the feeling of being trapped on an unconvincing theme park attraction you paid way too much for, Disney's Jungle Cruise is basically the thought experiment "What if Werner Herzog made a Pirates of the Caribbean movie?" come to life. One of the many animal characters in the film is Proxima, Skipper Frank's trusty leopard sidekick.
While a jerky animatronic dummy would have been more faithful to the ride, instead, Disney decided to go the CGI route for the leopard, who, during filming, was played by a guy in a bodysuit seemingly made out of your divorced aunt's leggings.
Did the leopard print really help sell the illusion for the other actors that this adult man crawling on all fours was an actual, honest-to-goodness leopard? In one early scene, Frank and Proxima stage a fake fight to prove his manliness to a prospective client – even though he's the only boat captain in town that's built like a refrigerator leading a CrossFit class. On set, this meant that The Rock had to brawl with this same human performer, and the whole thing looks like a wrestling match between an unusually jacked Popeye and a Ninja trying to make a fashion statement.
Maybe if the ride has any technical difficulties in the future, they can just get this guy to claw at tourists as they drift by?
You (yes, you) should follow JM on Twitter! 
Top Image: Marvel Studios
Scroll down for the next article