6 Recent Movies and Shows That Look Bonkers Without CGI
Without amazing visual effects, Star Wars would have been forced to focus on Luke's career in the moisture industry and Avatar would have played like a Smurfs porn parody in a Rainforest Cafe. But as we've mentioned from time to time (to time) these fantastic feats of cinematic illusion look pretty laughable behind the scenes, and even the most recent crop of big movies are apparently no exception, like how ...
Tom & Jerry Had a Real BDSM Vibe Behind the Scenes
Presumably because animating backgrounds is a real pain in the ass, the new Tom & Jerry movie is yet another cartoon adaptation in which classic animated characters find themselves in the crappy old real world -- or at least a version of the real world that happens to be populated entirely by B-list celebrities. 
Since real mice aren't really hyper-intelligent homicidal maniacs, to represent Jerry while filming, the filmmakers simply put a stuffed mouse on the end of a stick and got some dude in cargo shorts to push him around.
Similarly, Tom was also a stuffed animal on set, complete with cartoon eyes and, disturbingly, no other features whatsoever. Adding to the eeriness, he is puppeted by a blue ninja hovering behind him like the It Follows sex demon.
Most oddly, for the cartoon dog, instead of a puppet they just put a leash on an adult man. 
If you're really into BDSM and the comic antics of SNL's Colin Jost, boy do we have a GIF for your highly-specific fetish ...
At least the movie doesn't feature any scenes of Tom selling himself into slavery.
Wonder Woman 1984 -- Gal Gadot Was Basically a Human Yo-Yo
In an effort to make the story of an immortal Amazonian warrior as realistic as possible, the filmmakers behind Wonder Woman 1984 tried to capture most of the action in camera -- which meant constantly rigging Gal Gadot with wires and bouncing her around like a human yo-yo.
In order to signify that the film takes place in the '80s, one of the biggest setpieces takes place inside of a giant dayglo shopping center instead of, say, a Duran Duran concert at a spandex factory. This too meant hooking Gadot up with wires, unusually, inside the actual mall.  
At the end, Wonder Woman dons a suit of golden armor and battles Cheetah, who, unlike that other '80s Cheetah who was only interested in hocking cheese puffs, is brutal, feral and, not surprisingly, fast.
But behind the scenes it was just Kristen Wiig in a jumpsuit clawing at Gadot like she's a discounted TV on Black Friday, forcing her to shield herself with … pieces of shiny cardboard.
Which is also how we imagine is what most of the behind the scenes footage from Cats looks like. 
WandaVision -- Vision Looked Like Part of the Blue Man Group
WandaVision obviously had a ton of visual effects; flying witches, magical force fields, and a suitcase full of physical media. And they put a ton of work into the early old-timey sitcom-style episodes, including using vintage equipment and a live studio audience, thankfully stopping short of using tobacco commercials to pay for the costs. 
Weirdly, while Vision's headpiece seemingly used to be something Paul Bettany actually wore, for WandaVision, he just had his ears out in the open, which were then later zapped away by the same visual effects wizardry that ensured Ralph Fiennes' nose didn't appear in a single frame of the Harry Potter movies.
And for those black and white scenes, weirdly, Bettany's face was painted blue, which historically looks red in monochrome. So on the set, Vision looked less like a highly-advanced android, and more like if Dick Van Dyke joined the Blue Man Group.
Bettany's indignities were only compounded by the old-school approach to Wanda's magic, which required attaching a plate to a long stick and smashing it into his face. 
Zack Snyder's Justice League -- The Hot Dog Scene Was Even Weirder in Real Life
We've previously talked about the making of Zack Snyder's Justice League -- but not Zack Snyder's Justice league, the longer, boxier cut that fans have been clamoring for. One of the most memorable new scenes involves The Flash, his love interest Iris, and a thousand gravity-defying wieners -- because Freudian subtlety isn't exactly one of Sndyer's strong suits.
Somehow this vaguely creepy scene was even creepier behind the scenes. To make it appear as though she's flying out of her car in slow motion, actress Kiersey Clemons was dangled by a crane with a green phantom holding her by the ankles. 
And in order to fake that it was all happening in slow motion, Iris' hair was totally CGI -- so for the moment where Flash caresses her hair without consent, actor Ezra Miller had to just paw at the air. Note the person who presumably parlayed a film school degree into a job holding a bunless hot dog next to her head.
And the whole thing is far weirder when it's two actors clearly moving in slow-motion, one of whom is in a motion capture outfit that's basically an old-timey bathing suit.
At least this wasn't one of the scenes Snyder had to shoot in his own driveway.
The One and Only Ivan -- Bryan Cranston Bonds With … Some Dude
In turning the depressing story of a gorilla who was forced to live in a shitty mall into a magical Disney fairytale, at least The One and Only Ivan didn't use any real animals. Instead they employed cutting-edge motion capture technology and human actors to generate an exotic CGI menagerie.
Which also meant that much of the behind-the-scenes footage was pretty weird, containing images of what appeared to be a human zoo run by Bryan Cranston.
And the tender moment that was used as for the film's poster, depicting Cranston and Ivan forming a human ape-bond was, in real life, created by having the Breaking Bad star nuzzle foreheads with some random dude in a headband.
Not since Harrison Ford and his loyal dog in Call of the Wild has there been such a powerful relationship between a man and an adult human pretending to be an animated pet. 
Disney's Mulan Was Less Epic In Person
Presumably in a multimillion dollar attempt to make Mike Pence's brain melt like off-brand vanilla ice cream in the hot sun, Disney recently remade their classic animated adventure Mulan. And while the finished product was full of impressively epic battles and action scenes, it took a lot of effects work to bring them to life -- and it looked way sillier in person. Those attacking hordes were able to pounce into action because they launched off some kind of wagon, not unlike pieces of a giant Rube Goldberg machine.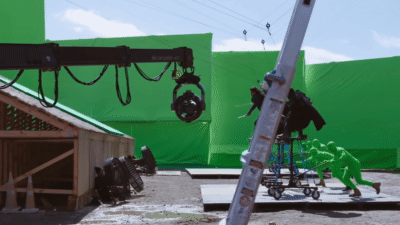 And Mulan's badass mid-air spin move was accomplished thanks to a crew member rotating her as if her ankles were the steering wheel of a big rig.
And some of her dramatic horseback riding was really just actress Liu Yifei on a big budget version of one of those coin-operated shopping mall kiddie rides.
You'd think with all of this amazing technology, they could have created a CGI talking dragon, but no.
You (yes, you) should follow JM on Twitter! And check out the podcast Rewatchability.
Top Image: Warner Bros.