And remember pint-sized badass Lyanna Mormont's dramatic death scene, in which she takes out a giant? First they filmed the actress stabbing a bit of green foam.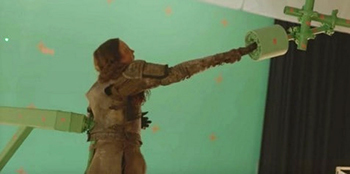 HBO
Then they had the actor playing the giant hold what looks like a hastily made voodoo doll of Kermit the Frog.
HBO
HBOYou can tell this is before any effects were added because it's light enough to see what's going on.
And in the scene where the Lannister army gets set on fire, they understandably didn't want anyone's face melting off. So they wore full rubber suits, including fake faces.
HBO
HBOIf you pause at just the right time, it looks like King's Landing is being defended by an army of Dick Tracy villains.