Then Mysterio shows up. Right from the get-go, it feels as if he's auditioning to be part of the MCU. He gives himself a tragic origin which incorporates elements of various MCU characters -- a bearded flying genius in the mold of Iron Man, a soldier similar to Captain America, and "a grieving family man like Hawkeye," albeit with a less stupid haircut. It's like Beck is "aware of the tropes of the story he's in." If that wasn't enough, Beck literally creates CG monsters to fight, calling them "worthy of the Avengers" -- which could be read as referring to the team or the movie.
Sony Pictures Releasing"They could make a bunch of movies about my adventures! A Mysterio Cinematic Universe, if you will."
What's Mysterio's plan? To get those glasses, of course. Which is right on theme, because they're the symbolic embodiment of Downey Jr.-ness. And when we see behind Beck's digital curtain, it turns out he's wearing not a fishbowl and cyber-magic armor, but a mo-cap suit -- those ridiculous pajamas Downey had to wear on set.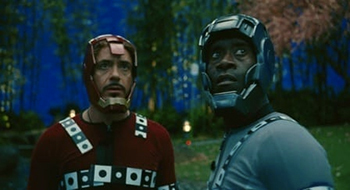 Walt Disney PicturesJust once, could we have a superhero who doesn't look like a complete doofus behind the scenes?
And since the movie is secretly about vying for Marvel stardom, casting Jake Gyllenhal as Beck is a sly inside joke, because this isn't the first time he's almost usurped a Spider-Man. Back in 2004, Gyllenhaal nearly replaced Tobey Maguire for Spider-Man 2, because the studio was allegedly "irritated" by Maguire's behavior.