And while a lot of the movie utilizes good old-fashioned practical effects, the big bad guy is a CGI blob who easily could have been from the prequels:
In this allegory, Rey is J.J. Abrams, the reluctant protagonist. It's been well-documented that Abrams at first turned down the opportunity to make the movie. He had to be convinced to do it by producer Kathleen Kennedy. Similarly, Rey doesn't want to accept her powers, but needs to be convinced by a wise older woman.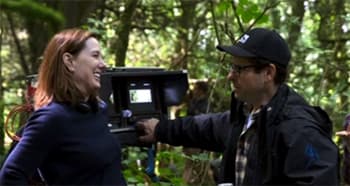 Rey's partner in the movie is Finn, a Stormtrooper who renounces the First Order. Abrams' partner? Lawrence Kasdan, who originally joined Lucas in co-writing The Empire Strikes Back and Return Of The Jedi. Seeing a limit to his loyalty, Kasdan ran away from the prequel scripts, stating, "I thought [Lucas] should take responsibility and make exactly the movie he wanted to make, and that's exactly what he did," which is a very nice way of saying "You're not taking me down with you."