The Best Of The Best From Our Green Monday Sale
This piece was written by the Cracked Shop to tell you about products that are being sold there.
You know about Black Friday, Cyber Monday, and maybe even Small Business Saturday, but have you ever heard of Green Monday? No, it's not the New Order/Orgy song after sitting in the fridge for a few weeks. It's a term made up by eBay in 2007 to describe what is supposedly one of the most profitable online shopping days of the year as people scramble to make sure the present they order for that cousin they forgot about arrives before the big family get-together, or Grandma won't let you have any cranberry pie. She makes the best cranberry pie! We wanna help you get it, so we've curated all the best Green Monday deals, and you can even get an extra 20% off all of them when you use promo code GREEN20. That's just the power of the Green Monday spirit.
100% Silk Pillowcases with Trim: Set of 2, $23.99 (reg. $49) with promo code GREEN20
Do you know a long-hair who is still inexplicably sleeping on microfiber? Introduce them to a world of tangle-free style and comfort with these silk pillowcases.
Kathy Ireland 6-Piece CoolMax Sheet Set, $27.19 (reg. $119) with code GREEN20
If there's one thing we all know, it's that Kathy Ireland does not deal with heat. She CoolMaxes that shit! Keep it cool with these sheets, just like Kathy does.
Bibb Home Reversible 2-Tone Down Alternative Comforter, $31.19 (reg. $59) with code GREEN20
Nothing says "winter" like a new comforter. This big, fluffy, hypoallergenic comforter will engulf you in a warm snuggle and help you sleep through the night. Plus, thanks to the reversible design, it doesn't matter how much you mess up the bed.
4-Piece Pur-Well Living Lavender & Aloe Infused Bed Sheet Set, $34.39 (reg. $99) with code GREEN20
These super comfortable lavender- and aloe-infused sheets emit a relaxing aroma that is way better than the farts and B.O. you lock under there every night.
Carbon SnoreX(TM) 8-in-1 Cooling Pillow, $36.79 (reg. $99) with code GREEN20
They call this baby an 8-in-1 cooling pillow because it features eight pillow technologies. You probably didn't even know there were eight pillow technologies. From memory foam to carbon fiber lining to moisture-wicking fibers, this guy has it all.
Beckham Hotel Italian Luxury Bed Pillow, $47.19 (reg. $69) with code GREEN20
You ever slunk down on a hotel pillow and felt almost sexually aroused by its cloud-like comfort? Well, these pillows are a whole lot like those pillows.
VitalSleep Anti-Snoring Mouthpiece, $51.96 (reg. $99) with code GREEN20
Give your sleeping partner the gift of ending your snoring with this mouthpiece that has a special accu-adjust system to perfectly align the mouth and throat while sleeping to open up the airway and defeat snoring once and for all.
Enchante Home Luxury Wool Pillow, $55.99 (reg. $150) with code GREEN20
This wool pillow is like befriending a sheep, spending all day frolicking in the summer sun, and then lying down in a meadow under the moon, resting your head on your sheep friend's wool. Although we might have just eaten too many gummies.
Sharper Image(R) Antimicrobial 1000 Thread-Count Cotton Blend Sheet Set, $60.79 (reg. $79) with code GREEN20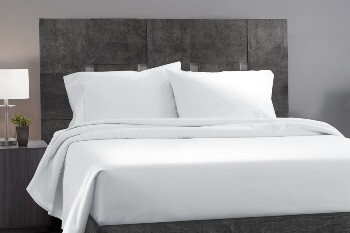 We know what you're thinking: Sharper Image sells sheets? They do, mon cher, and they feature SILVADUR(TM) technology that prevents the growth of odor-causing bacteria. They're also wrinkle-resistant and eco-friendly!
Amore Beds 15Lb Weighted Blanket, $65.59 (reg. $129) with code GREEN20
This weighted blanket is like being wrapped up in a warm snuggle to help you relax and drift off to Dreamland. It can also promote circulation!
Pure Bamboo Soft White 4-Piece Sheet Set, $75.99 (reg. $136) with code GREEN20
You've been to Bed, Bath & Beyond and seen the prices for sheets, right? It's crazy! They're just flaps of fabric! Well, these super-soft, premium bamboo sheets are $60. How do you like them sheets?
Hupnos Anti-Snoring Sleep Mask, $75.99 (reg. $199) with code GREEN20
The Hupnos Mask might look like any ordinary sleep mask, but it has a superpower. It works with a companion app to detect and record your snoring, then it issues tiny vibrations to make you roll out of snoring position. It's like having someone right there in bed with you to shove you over, except it'll never give up and go sleep on the couch.
Eli & Elm Cotton Side-Sleeper Pillow with Cover, $84.79 (reg. $134) with code GREEN20
Side sleepers, no more pillow math and Tetris for you! This pillow has a special side-sleeper design and custom firmness that adjusts to the perfect comfort level for you. Oh, it also has 4.2 stars on Amazon.
BedJet 3 Climate Comfort Sleep System & Aromatherapy Upgrade Bundle, $319.99 (reg. $619) with code GREEN20
This Shark Tank-featured sleep improvement system is like a little sleep nurse, resting their hand against your drowsy forehead and warming, cooling, or drying you as necessary. With biorhythm sleep tech, the system automatically senses and controls the temperature under your sheets so you always feel real good. Plus, it comes with an aromatherapy upgrade kit!
Amore 12″ Hybrid Foam/Coil Mattress Bundle, $775.19 (reg. $1,281) with code GREEN20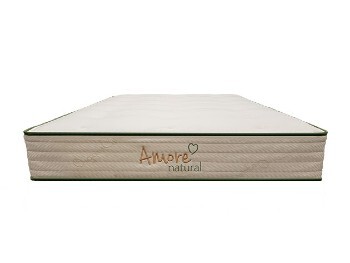 Amore's hybrid mattress fuses the comfort of foam and support of coils for an incredibly relaxing sleep. The foam layers are stacked for optimal breathability, contoured comfort, pressure-point relief, and correct spinal alignment. Basically, you're gonna feel great.
GhostBed(R) Luxe 13" Cooling Mattress (King), $1,211.99 (reg. $2,545) with code GREEN20
Don't worry, this heavy-duty mattress isn't haunted. It's just built with seven layers for superior comfort. It's cooling to the touch, made with memory foam, and has patent-pending thermosensitivity technology to sense heat and adjust the temperature all night long. It also might be haunted, if that sweetens the deal for you.
Scroll down for the next article