Make Your Walls Pop, Pop, Pop!
This piece was written by the Cracked Shop to tell you about products that are being sold there.
Blank walls are for asylums. Your walls are dying to express themselves, so help them do it! We've rounded up some sweet art that you can get on sale today. Check it out.
"How Far is a Light Year" (Framed Print, White Frame)
MSRP: $69
Doesn't this print just scream James Franco? Well, if you're looking to indulge your inner Team Apatow, this 20" x 24" framed print by Spanish artist Alexander Grahovsky will look great on your wall.
White Framed Print "PopStick" by Ivan Ballack
MSRP: $69
Pee-wee Herman would totally have this 20" x 24" piece by South African designer Ivan Ballack. That's all we're going to say. Nothing else.
Framed Print Black "Freda" by Sofia Bonati
MSRP: $129
Look at that melancholic gaze! This piece by Argentinian artist Sofia Bonati is hand framed and ready for your most pensive friend to hang. Bonati has clients like Iberia, Vanity Fair, and Mondadori, so you know she fancy.
Art Block Framed "Say Cheese" by Hidden Moves
MSRP: $150
This 20" x 30" print framed in homemade ash wood depicts one of the surreal characters in Welsh artist Rhys Owens' Hidden Moves universe. He looks like fun, doesn't he?
Giant Art "In Trouble She Will" by Agnes Cecile
MSRP: $552
Big walls need big art, and this 54" x 54" piece delivers both in size and intensity. Agnes Cecile is a self-taught artist from Rome who is known for her layered, gorgeous watercolor work, but here, she went wild with pencil. Over the bed is a choice, but you do you.
Giant Art "Space Cadet" by Hidden Moves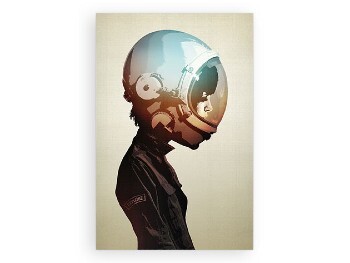 MSRP: $552
Add another Hidden Moves character to your wall! And it's an astronaut-looking one, too! We're sensing a theme here.
Giant Art "Marianna" by Ruben Ireland & Jenny Liz Rome
MSRP: $558
"Marianna" has a little more chill than "In Trouble She Will." Really, it's a matter of personal preference, but Canadian artists Ruben Ireland and Jenny Liz Rome definitely make an impression with this one.
Prices are subject to change.