Exclusive Headphone Discounts For Cracked Readers!
This piece was written by the Cracked Shop to tell you about products that are being sold there.
Neat news, y'all! We've been wheeling and dealing and begging and pleading, and we've secured exclusive discounts on a whole bunch of headphones. Whether you're traveling the world or going back to work, it's the perfect time to get a new pair. Please. We cried in so many boardrooms.
Allegro Directional Audio Open-Ear Headphones, $53.96 (reg. $59.95) with promo code CRACKED10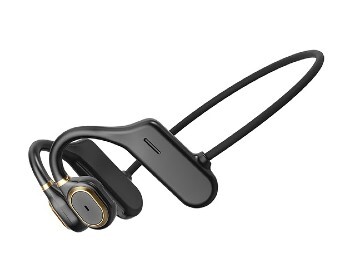 They may look like something out of science-fiction, and they kind of are. With an open-ear design, these active headphones feature directional audio technology to provide elite sound without blocking your surroundings. They last up to five hours on a single charge and claim to be the lightest directional audio headphone on the market. Welcome to the future, blockheads.
TREBLAB X3 Pro: True Wireless Bluetooth Earbuds with Earhooks, $57.59 (reg. $99) with promo code CRACKED10
If you've got funky ears, you know what a pain it is when wireless earbuds fall out. That's why these clever buds, which also offer noise-cancelling and up to 45 hours of playtime with the included case, are built with little earhooks on them. Don't worry. We think your ears are cute.
Raycon E50 Wireless Bluetooth 5.0 Earbuds, $58.49 (reg. $119) with promo code CRACKED10
You knew Dr. Dre had headphones, but did you know Ray J does, too? Even Snoop Dogg uses them! That means either Snoop and Dre had some kind of potentially gin-and-juice-related falling out or they're really good.
Culture(R) Wireless Waterproof SportBuds, $58.49 (reg. $94) with promo code CRACKED10
Should you do the unthinkable and start exercising frequently, these earbuds will be your best friend. With Bluetooth 5.0, they won't disconnect, while the built-in touch controls let you pick up calls, adjust the volume, or switch tracks without needing to stop and jog in place and look silly. Plus, they're IPX67 waterproof for use in any weather.
Exobone Bone Conduction Headphones, $69.29 (reg. $157) with promo code CRACKED10
Putting headphones in your ears is so 2018. Instead, send them sound waves directly to your inner ear via bone conduction. Your eardrums will be much happier to receive chill waves rather than blasts of noise.
xFyro xS2 Waterproof Wireless Earphones, $71.99 (reg. $249) with promo code CRACKED10
You can literally go swimming in these earphones, so if the Olympics have you inspired, you can dive in with your own kickass soundtrack. Pulling your shoulder feels much cooler with Skrillex.
The Palladium Wireless Earbuds, $71.99 (reg. $99) with promo code CRACKED10
Made with Bluetooth 5.0 and partnered with a large case that supports up to 90 hours of charge, these earbuds deliver crisp, clear sound from all your devices. They also come with multiple ear tip sizes to find the right fit for any ear, in case you've got freakishly huge or hilariously tiny (but again, very cute) ones.
LUNE Active Noise Cancelling Wireless Earbuds, $80.95 (reg. $99) with promo code CRACKED10
These Indiegogo-funded headphones offer nutty noise cancellation for a set of wireless earbuds. They can reduce noise by up to -35dB and also feature a transparent mode so you can have a conversation with someone without pulling the earbuds out, if you're into that.
ComfoBuds Pro True Wireless Headphones, $80.99 (reg. $105) with promo code CRACKED10
A 2021 CES Innovation Awards Honoree, the ComfoBuds are big, snuggly blankies that will be your friend. Just kidding! They're actually stupidly comfy earbuds that also feature QuietMax technology that offers precise audio tuning and wind noise reduction as well as a pass-through mode to let you enjoy your surroundings. Ahh, the soothing sounds of car horns and human misery.
PaMu Quiet Active Noise Cancelling Wireless Earbuds, $89.99 (reg. $119) with promo code CRACKED10
Not only were they successfully funded on Indiegogo, NBA stars Domas Sabonis and Spencer Dinwiddie wear these wireless headphones, so you know they must be good. With dual-chips for better active noise cancellation and a 10mm large driver for deep bass, you can crank up the Kelly and have your very own Space Jam.
The Beacon 2.0 True Wireless Earbuds, $89.99 (reg. $129) with promo code CRACKED10
These ergonomically designed earbuds have multiple ear tip and wing sizes, providing 12 different combinations so they'll fit literally any ears. Try them on your sibling, your child, your dog, you name it (just make sure to clean them between experiments). With voice assistant capabilities and a built-in mic, they'll also help you stay connected while you're out and about.
xFyro Active Noise Cancelling AI-Powered Wireless Earbuds, $225 (reg. $250) with promo code CRACKED10
These earbuds make noise cancellation feel like a superpower. With the AI-powered engine, you can toggle between ANC, Transparency Mode, or standard audio settings based on any situation. They also have 7mm graphene drivers and a dual-beamforming mic. Those do something to clarify sound on both ends, but mostly, they sound like sweet Star Trek stuff.
Prices are subject to change.
Scroll down for the next article