Since then, we've seen the exact "Spidey lets a thief get into an elevator and then the same thief kills Uncle Ben, whoops" moment on the Spider-Man cartoons from the '80s, the '90s (twice if you count the Spider-Man Unlimited intro), the '00s, and the '10s, which we guess must be pretty useful to researchers tracking criminal fashion trends.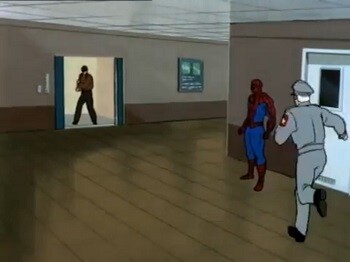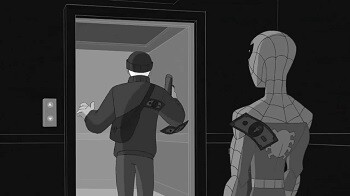 But, somehow, not even the versions animated over 40 years ago are as stiff and awkward as the tragic death of this Uncle Ben mannequin in the Amazing Spider-Man 2 video game for PS4 (which for some reason included this scene from the previous movie).
What all these scenes neglected to mention was that Peter Parker was singing on the street like a jackass right before Uncle Ben got murdered, and his reaction immediately afterwards was to launch into a rejected U2 B-side. We learned this essential information in the classic Spider-Man: Turn Off the Dark musical, which expanded the list of people weighing down Peter's conscience by attempting to kill several cast members.