The Truth:
If you're single, work/life balance is yet another way for the world to punish you for being unloved. One way the "balance" is enforced is the Family and Medical Leave Act, which gives any employee the right to take time off if a spouse, child or parent gets sick.
But what if you're struggling to save up enough money for a ring for your girlfriend of seven years when she gets hit by a bus? According to work/life balance, you'd better have some vacation time saved up. Otherwise, you're just going to have to learn to weep a little quieter, because you're sort of bumming out the rest of the folks in Accounts Receivable.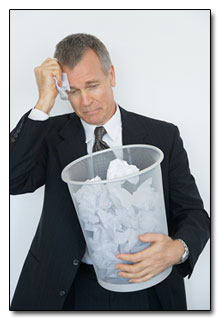 Take it outside.
There's also the unofficial considerations. Married employees simply have more legitimate excuses to ask for time off: a kid's birthday party, an anniversary dinner, Christmas. Yes, single people are more likely to be asked to work on holidays. The logic goes: You're single, you don't have a wife or kids, what could you possibly have to do? It doesn't matter if you were planning to spend the day delivering presents to sick children. Someone's got to pick up the slack for the married guy who keeps taking time off to attend his daughter's dance recital.

"Dance Recital."
But don't worry too much about vacation time. Thanks to something called per person double occupancy (PPDO), you wouldn't be able to go on good vacations anyways. Essentially, hotels, cruise lines, pretty much anything that isn't a plane or a train, is designed and priced for couples. The travel industry wants as many people as possible roaming the streets in a capitalist frenzy. The more people they can pack into a hotel or a cruise ship, the happier they are. If that means punishing you for being unloved, so be it. Maybe you'll learn not to be so lonely next time.