And speaking of "crazy" ...
3. The Ending Gets Exponentially Bonkers
One element of the original Predator that none of the cinematic sequels have quite captured is the utter "HOLY @#$%, did that really just happen?!" factor. Luckily, this comic has that in spades. After Batman puts on his armor, he manages to lure the Predator into a trap that drops him down on the Batcave. The Predator eventually turns the tables on Batman and pins him down under his giant decorative penny (which was always a work accident waiting to happen). But then, Batman is saved by what J.R.R. Tolkien once determined to be the prettiest words on the English language: Alfred with a musket.
Wounded and half-sedated (courtesy of some tranquilizer darts), the Predator tries to escape into the woods outside Wayne Manor, but Batman tracks him down and finishes him off with something he grabbed from the sports room. And that's when we find out that Predators are familiar with both baseball and puns.
The comic ends with more Predators coming down in a spaceship, making their loser friend kill himself, and gifting Batman his sword as a souvenir of this adventure.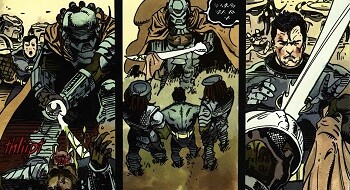 On the last page, Batman assures Alfred that the Predators won't be back "now that they've met what lives in Gotham." He underestimated their thirst for a challenge and DC Comics' thirst for money because the comic had two sequels that didn't measure up to the original. But there was another DC superhero/space monster crossover that did ...