In Back to the Future, Marty McFly has to go back to the past to help his parents fall in love. But there is one major flaw with the movie -- and that's Marty totally should have ended up with his mom, had he actually been just Calvin Klein and not his mom's time-traveling son. It's a modern-day Oedipus Rex -- another great love story (had one of the romantic leads not come out of the other romantic lead.)
Universal PicturesHeads up: this is gonna get heavy.
When you fall in love, that initial gut feeling is often the right feeling, and Marty McFly and Lorraine McFly nee Baines both had the hots for each other right away. When Marty awoke in 1955 to find his young mother leaning over his pantsless body, he was caught by surprise by her beauty. "But you're hot!" he ejaculated. Lorraine also came on hot and heavy for the teenager she would give birth to thirty years later. The requited love is weird if they're related. It's not if they're not.
Lorraine takes care of Marty after he's hit by a car, which is the inciting incident of 98% of romantic melodramas. Lorraine develops Florence Nightingale Syndrome for Marty, tending to his wounds and thinking about him when he's not around. The only reason why Marty wasn't into it is because he knows it's his mom. If they didn't climb the same family tree, he'd be singing a different tune while skipping his way to pound town.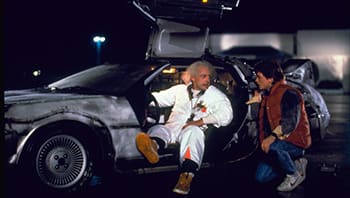 Universal Pictures"Think we could check out a time when genetic tests are available? I just want to be 1,000% sure I wasn't switched at birth."
Who else do you think Lorraine should end up with if not her own son? Biff Tannen? He's a bully. George McFly? He's a dweeb. Hill Valley is devoid of quality men. That town has to import dudes from different time zones just to have even one eligible bachelor.
If you're in a small town and you're stuck between someone who's too dumb to understand the expression "make like a tree and leave" or someone who spies on women undressing under the guise of "bird watching," you're going to latch on to the first non-weirdo you come across, especially if they're as foxy as Michael J. Fox. Sorry, but Lorraine shouldn't have to end up with a rapist or a pervert.
Universal PicturesWe suppose there's always these guys if you have a thing for cardboard glasses or the Wish.com version of John Travolta.