Humanity owes its longevity to a number of factors: Our big brains, our skills of adaption, and our ability to survive on 7-Eleven hot dogs and Mountain Dew. But, more than anything, it's our capacity for staying horny during (and even about) just about any event. As such, coronavirus porn was an inevitability, yet still somehow feels blindsiding.
By March 4, 2020, a PornHub search for "coronavirus" produced 112 results. As of this writing about a week later, that number has almost tripled, so those dedicated adult performers have been busy getting busy. Their products range from the spurious ...
... to the racist ...

... to the simply confusing.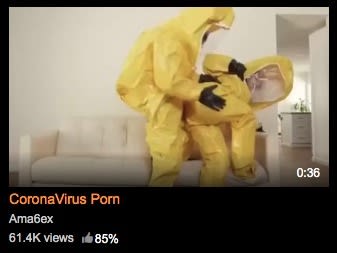 This one also counts as Breaking Bad porn.
It's not like this, like the plot of so many videos, is just a thing they're putting out there to see if anyone bites, either. Please (seriously, I'm begging you) note that many of those videos have five- or six-digit view counts. There have been millions of searches for these videos, peaking on March 5, but expected to spike again with preventive self-isolation (and therefore lots of bored, horny people) on the rise. Incidentally, the location where the most searches are coming from is Washington, D.C. Make whatever assumptions you'd like from that information, but I'm going to pointedly not.