And like the Trumps, the Bluths also employ a sleazily inept lawyer.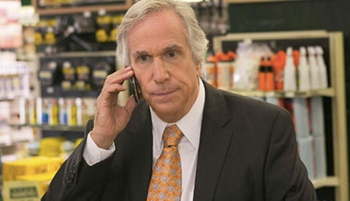 NetflixThough Henry Winkler is more likable than Michael Cohen any day of the week.
Even more pointedly, Season 4 finds George Sr. masterminding a plan to build a wall between the U.S. and Mexico, getting a right-wing political candidate to use it as a campaign promise. This comes complete with supporters chanting "Put up this wall!" Keep in mind, this was back in 2013.
NetflixThough one notable difference is the most vocal supporters are raising fists, as opposed to the white power salute.
And George Sr.'s defective Cornballer? Why, that's obviously a metaphor for Trump University. Or that casino in Atlantic City. Or, you know, America.