Seemingly wanting to embrace Seinfeld without resorting to having angry employees bark nastily at customers, McDonald's began testing a product known as "Muffin Toppers." And yeah, they were exactly what it sounds like. People of course noted the similarities between the this product and the 20-year-old sitcom plot.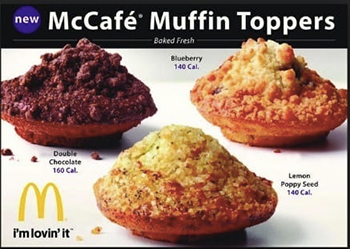 McDonaldsYou can tell they had no idea what they were doing when lemon poppy seed got the starring spot.
On Seinfeld, Mr. Lippman finds that the tops are inedible unless he makes the entire muffin first and then throws away the stumps, leaving him with an unwieldy excess to deal with. While we don't know a lot about the McDonald's process, presumably any surplus muffin parts were just tossed in with whatever other mystery ingredients make up McNuggets.