She doesn't change his facial structure at all (gotta spring for the deluxe package for that). She just pumps him full of melanin, gives him a haircut, and sends him on his merry minstrel way.
Punisher hops in a car, but it's not long before he's pulled over by police on account of the superhuman level of painkillers in his system ... and also, well, you know. He gets the shit kicked out of him some more, and we're treated to a wildly uncomfortable and inappropriate visual reference to certain then-current events.
Marvel ComicsMaybe Punisher isn't the best character to use to criticize excessive force.
But don't worry! Luke Cage soon arrives to save him, in what we can assume was meant as an analogue to ... the cameraman who filmed the King beating?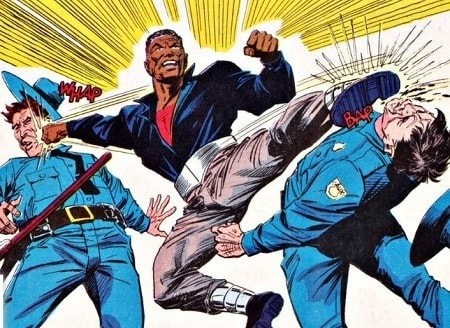 Marvel ComicsThough, unlike the real guy whose life that video ruined, Cage can at least reduce his critics to chunky paste.
Cage and Punisher (still keeping his real identity a secret) then spend several issues beating down criminals and philosophizing about the black experience. That is, until the blackstic surgery starts to wear off and Frank skips town to avoid getting his ass justifiably kicked by Cage.
Frank is soon captured by the bad guys who were chasing him -- bad guys who don't see color, it seems -- leaving Cage with no choice but to rescue him (again). The story then ends with the now-late-career-Michael-Jackson-toned Frank telling the Hero for Hire to go fuck himself in regards to wanting payment for having to constantly bail his Dolezal ass out.
Marvel Comics
Marvel ComicsYup, nice disguise. No one could've ever connected the Punisher to this refrigerator-chested, gun-toting vigilante.