Unless you're the proud owner of an ornament depicting Spock's painful demise, you probably don't associate Star Trek with Christmas. Well get ready for that to change, because now you can cram the holiday season full of the dulcet tones of Captain Kirk himself. Yup, leveling the playing field with Star Wars fans who already have plenty of tacky holiday tie-ins to ironically enjoy, William Shatner has released a Christmas album. And if you don't think it's called "Shatner Claus," then you've got the wrong 87-year-old sci-fi icon.
Cleopatra RecordsSpoiler alert: It is called Shatner Claus!
Shatner brings his trademark, uh, style to yuletide classics like "Little Drummer Boy" and "Jingle Bells," and features guests such as Henry Rollins and Jethro Tull's Ian Anderson. Also, Iggy Pop joins Shatner to sing "Silent Night," for anyone who ever thought the manger scene was missing a gyrating shirtless dude. To promote the album and perhaps kill Christmas once and for all, Shatner also made a music video for "Rudolph The Red-Nosed Reindeer," and it's ... weird. The video starts with a sedate Shatner reading the story of Rudolph to a gaggle of small children and adults dressed like elves.
Cleopatra Records
Then things start to rock, and by "rock" we mean embark on a surreal journey into the heart of a tinsel-filled nightmare. Shatner dons a shiny leopard-print jacket and sunglasses, and is joined by one of the ZZ Top guys (presumably, getting both costs extra) on a stage seemingly in the living room of a suburban McMansion, where it rains confetti and what we can only assume is cocaine.
Cleopatra Records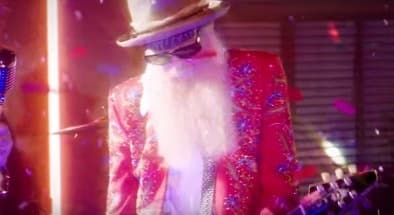 Cleopatra RecordsWait, is that ZZ or Top? Eh, who cares.